On Transparent Season 1 Episode 3, we start to learn a lot more about our characters and are beginning to see their storylines developing and revealing more about who they are. 
Sarah is dealing with her growing feelings for Tammy and has come to the realization that she is falling in love with her.
When you realize that even them eating a sandwich is interesting, you may be falling in love with them. 
Sarah: You know that thing you do when you are falling in love.
Mort: Not really.
Maura (who before this review was interchangeable with Mort) didn't seem to grasp what Sarah was talking about in this scene. It made me sad that it seems like she has never had the feeling of really falling in love.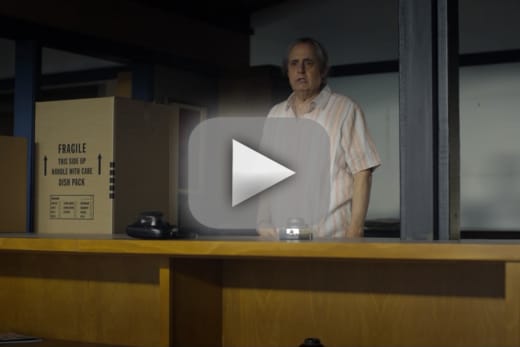 I am sure Maura grew to love Shelly, but how can you love someone when you can't share your biggest secret with them, a secret that also happens to be fundamental to your identity. The depth of the love would come from your partner knowing your biggest secret, and accepting and loving you because/in spite of it. 
It is great to see Maura start to be more comfortable with her femininity, but she can't be completely comfortable until coming out to her other two children. 
Coming out to Ali turned out to be easier than Maura thought, thanks to the ecstasy in Ali's system. The timing of it all though. Ali premeditated having boundary pushing sex with her trainer and his roommate, all under the guise of taking ecstasy together.
It didn't work out and she ended up being in the perfect state of mind for Maura to come out to her.
Now just one more of the Pferffman children to go.
I can see why Maura would be more comfortable coming out to her female children first and why she is afraid to come out to Josh. Despite the discrimination that women have endured, we are blessed with having a less rigid gender role in most societies. This can allow us to define ourselves more broadly than men.
For Josh, seeing his father become a woman before his eyes could be a lot more confusing and shocking. The world just doesn't allow men as much leeway in acting like the other sex.
Maybe not finding out about Maura was a good thing for Josh, as he was a dealing with a lot in this episode as it is. 
Finding out that his pregnant girlfriend got an abortion, and then realizing that he basically scared her completely out of his life is harsh. 
I can't say I didn't completely agree with her not wanting to be with him. Josh was springing this on her pretty suddenly, she has a budding music career and also seems to be a lot younger than he is. She also brought up the fact that he had only been to her place two times during their relationship, and they evidently do not live that far apart. 
I was shocked when Josh had an outburst in his office that got him fired. It also gave us something to go on when analyzing what's going on in Josh's head. We also found out about the depth of the relationship that he was having with his babysitter, Rita (the older woman that we say in the first episode). 
I think all signs are pointing to the fact that Josh has some interesting relationships with women. What is this going to mean for his character? Will it impact his relationship with his father's secret? 
As far as Ali's story goes I don't have a lot to comment on yet. Waiting for some more development before offering some judgments and analysis. 
Did you have a favorite scene in this episode? Where do you think the development of the characters is going? Remember to go watch Transparent online via TV Fanatic if you need to catch up.