Transparent Season 1 Episode 7 Review: The Symbolic Exemplar

Amanda Wolf at . Updated at . Comments
"Somebody that I Used to Know" by Walk of the Earth was certainly the right song to describe what was going on in Transparent Season 1 Episode 7.
To Maura's children watching her perform, this is certainly the feeling that they have toward their father, who I should more accurately be referring to as their parent.
The truth is that from their father they now have this woman Maura, who is certainly not a version of their parent that they are used too.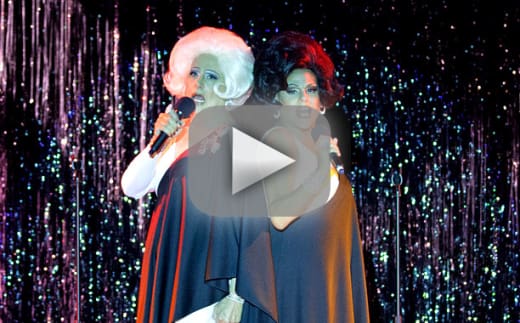 In this episode Ali had the biggest journey, and ,one could call it, the most interesting. Ali explored her feminine side and transformed from what Syd referred to as "middle earth femme" to high femme in order to impress Dale, her TA. I am from Texas so I have seen my share of cowgirl/cowboy inspired outfits and styles, but what Ali ended up picking out looked more like someone heading into a modern saloon with a costume on. 
More importantly, what the hell went down on their date? 
No way, no way, would you let someone shave you on a first date. Not about exploration, just about boundaries that are too uncomfortable to cross. I know that may be what this show is about, but realistically would that happen, did it really happen?
Apparently, half way through whatever the hell was going on, on that uhmmm erotic date, Ali remembered that she promised Maura that she would go to her Trans Got Talent Show, Dale decided to come along since they were his people anyway. Points against Ali for forgetting about Maura's show, AFTER he gave her money to enroll in school.
After the talent show, Ali went back to Dale's house and saw his house as it actually is, which is much different than what she saw before. What is up with this? Is Ali crazy? Is there something to dementia in the family that Josh was talking about? Did she just see the fantasy that she wanted to see?
The flashbacks were quite revealing too. Ali managed to get her Bat Mitzvah canceled by saying that she didn't believe in God and that she hated her dress. Also, don't forget that Mort wanted to attend that camp with Marcy this same weekend. Something tells me there was something to gain for both parties in calling off the festivities. 
Shelley got nothing out of it but a loss of three thousand dollars and a huge waste of invitations. It did give us some more scenes with the amazing Judith Light.
Maybe if our little heathen in there had had her little revelation a few months ago.

Shelley
Moving on to the talent show. This was a big, big moment for Maura. It was a big event that symbolized her being reborn as a woman, unfortunately, her children were not present to see the whole thing, mostly due to their own issues with it. 
Ali left to go hook up with Dale in the bathroom, although that didn't happen, after she was turned off by the dildo getting dirtied up by falling on the floor. (Saw that one coming) Josh left because he couldn't handle it anymore and Sarah followed Josh out. 
Way to be supportive gang. Oh and also just plain rude. 
To cut them some slack, we did get a look at what they were going through before going to the show. 
Josh took Sarah to buy some medicinal marijuana for her anxiety, which may be more about Tammy than about Maura. Tammy is doing some serious renovations on the house and I wonder if it is causing some anxiety for Sarah about Josh asking her not to change the house. Could it just be her relationship with Tammy? Honeymoon period over?
Josh himself couldn't even smoke the dope because he didn't want to freak himself out anymore. He also admitted that he is not really okay with what is going with Maura. 
Josh: The dude had no talent whatsoever. What talent did he acquire now that he is a chick.
Sarah: How many fucking little league games has he gone to for you. How many hours of his life did he waste on you?
Josh: That's his job as a father.
Also, someone should have told him that his self-obsession was showing, just a little bit. To contradict myself this is something that I can also sympathize with, he is not required to accept Maura for who she is right away, nor is there any guarantee that he ever will.
This show is about real life, and in real life there aren't these rules that absolutely dictate respecting the emotions or rights of others. 
We saw that in Len's reaction to Sarah leaving him for Tammy. 
You are not allowed to do that.

Len
Josh had an interesting episode himself, as things started to get heated with the rabbi. They had some really cute scenes, especially when they were playing the sexy or not sexy game with her yamaka. 
I didn't want to throw you off with too much Jewiness on the first date.

Raquel
They did not, however, make it all the way due to an unfortunate failure of Josh's male parts. 
Sometimes rabbis, anybody like priests, anybody just project all their God shit on you. An so I am just like a walking yamaka and you can't ever get a hard on around me.

Raquel
Sadly, in the end, it got even more sad when Josh neglected to show back up at his apartment, after Raquel had found something edible in his refrigerator to make dinner with. 
He was to busy getting high with Bianca, whose age is not given, but it can be assumed she is pretty pretty young.
It felt like the relationship between Shelley and Maura was coming full circle when Maura came over to her apartment for support. They didn't need words to understand that what was needed was a hug and some support.
It was implied that they didn't speak for many years, but a lot of time has passed and this may be them finally understanding who the other is. 
What did you think of Ali seeing two different houses when she was with Dale? What did you think of Maura's show? What did you think of the Pferffman children's reaction? 
Leave your comments below and let me know what your thoughts are. If you disagree with anything I have said I would love to know and to discuss it!
If you missed this episode you can watch Transparent online via TV Fanatic!