It's the moment we've all been waiting for! Dancing With the Stars Season 19 Episode 14 delivered an unforgettable grand finale.
All three of the finalists were well-deserving, which they proved with some amazing freestyle routines in part one of the finale, Dancing with the Stars Season 19 Episode 13. And in the words of Bruno, this was "one of the most highly fought finals" that the show has ever seen.
The night began with a fun opening number that featured all of the Dancing with the Stars Season 19 contestants, judges, and even Erin Andrews – a great way to kick things off!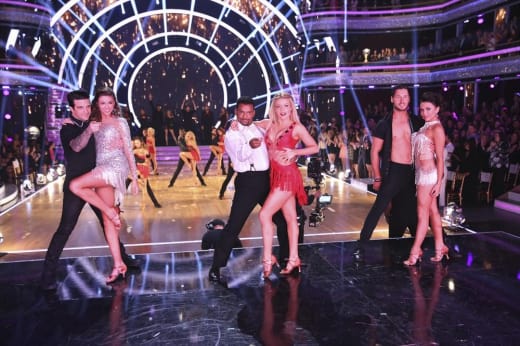 Before the competition began, we were treated to an encore performances of the freestyle routine viewers voted to see again. It was actually the freestyle from the couple eliminated just shy of the final part of the competition, Bethany and Derek. Not that it wasn't an awesome freestyle routine (they all were), but I was surprised the encore wasn't Sadie and Mark's Super Mario Brothers themed dance. That's the one I would have most liked to see again.
We also had a few encore routines from eliminated contestants – even ones you may have forgotten about by now. I was thrilled to see Jonathan Bennett back on the floor, with a routine that reminded me of how sad I was when he was sent home. And Betsey Johnson performed an encore of her dance to "Material Girl," which offered a few fun twists this go round.
My favorite encore had to be from Tommy Chong, who reprised his dance to "Drop it Like It's Hot." This time, the routine not only featured Cheech, but Len as well! I'm glad the judges are so willing to get involved and have some fun with the contestants.
I really enjoyed watching out takes from the dress rehearsals and, most especially, the tribute to Fresh Prince of Bel Air.
For the final dances of the competition, the couples were challenged with 24-hour fusion routines. These have to be the most difficult dances for the competitors. The contestants had 24 hours to develop a routine that combined two specific dance styles, and that was after competing on part one of the finale, which means the couples were already pretty exhausted.
Sadie and Mark's routine was good, but Sadie's shimmies were a bit awkward. Still, they earned a perfect score from the judges. Janel and Val's Foxtrot/Paso fusion was flawless, as usual, so it wasn't surprising that they also earned a perfect score.
My favorite? Alfonso and Witney's routine, hands down. Alfonso killed it on the dance floor, and I love him to pieces. Bruno even called him a "legend."
All of the couples did a great job, but you know the drill. Only one couple can win. So who took home the Mirror Ball Trophy? The winners of Dancing with the Stars Season 19 are (drum roll, please)...
Alfonso Ribeiro and Witney Carson!
Sadie and Mark came in second, and Janel and Val finished in third place.
If you ask me, Alfonso deserved this more than anyone. Congratulations, Alfonso and Witney!
But what did you think, Dancing Fanatics? Did the right couple win the mirror ball trophy? Leave us a comment – we want to hear your thoughts!
And hey, check out the final scores of the season!
Alfonso and Witney: Cha Cha / Argentine Tango - 40
Janel and Val: Foxtrot / Paso - 40
Sadie and Mark: Samba / Quickstep - 40
Ashley Bissette Sumerel was a staff writer for TV Fanatic. She retired in September 2017. Follow her on Twitter and on Google+.