Elementary Season 3 Episode 5 Review: Rip Off

Tanya Moat at . Updated at .
Brain versus brawn on Elementary Season 3 Episode 5 and it shouldn't surprise anyone that brain won. This is Sherlock Holmes after all.
This week we spent more time with Captain Gregson, which was nice. Both he and Detective Bell have been more in the background this season. Obviously, reconciling Sherlock and Joan was the top priority, and then we needed to get to know Kitty a bit better too.
Now that the gang is working together again I was happy to spend more time with Gregson, even if Joan wasn't around to keep Sherlock on his best behavior. Okay, the team wasn't physically back together this week, but in spirit only. Details, people.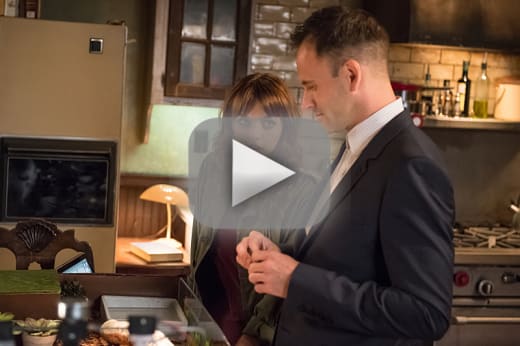 That's right, tonight it was the Sherlock and Kitty show. My enthusiasm would have been low about such an episode a few weeks ago, but I've actually grown fond of Kitty now that I have a stronger sense of who she is. While I missed having Joan as a part of the team, Sherlock and Kitty did well on their own.
Sherlock, in fact, was probably glad she was still in Copenhagen with Andrew after he discovered that she had been writing about their cases together. He made Kitty sign a nondisclosure agreement and planned to give Joan an earful too.
God only knows if she retained copies. But rest assured, I shall demand all of them when she returns from her Danish sabbatical slash sex-capade.


Sherlock
Watson writing about Sherlock Holmes was a nice nod to the Arthur Conan Doyle books. Watson has always written about their investigations together, so it was a nice call back to their roots.
The case this week involved a severed hand that wasn't exactly severed, more like yanked off. Ouch. Sherlock knew the murderer had to be someone exceptionally strong. When he honed in on a suspect, Dana Kazmir, he approached him in his typical Sherlock way: accusing him of murder, then challenging him to arm wrestle.
This guy was seriously big and strong, so brawn would win here, big-time. But Sherlock never had any intention of arm wrestling with him. Instead, when the match was set to commence, he smacked Dana in the nose instead. Sherlock was after his suspect's DNA. He already knew Dana was strong enough to commit the crime. 
With his lawyer by his side (and brokering him a deal), Dana confessed quickly, although he really didn't have any valuable information on who hired him. He did have one very interesting tidbit: he had been hired to kill three more people. 
Meanwhile Gregson was having a bad week. His story was actually more interesting and a little bit heart-breaking too. Captain Gregson punched another cop, which wasn't something he would do without cause.
And the cause? His daughter, Hannah. She is now a fellow NYPD officer and her partner/boyfriend had started abusing her. Whether she was telling her Dad or Captain Gregson, I don't know, but he responded as her Dad. 
She didn't want her fellow officers to look at her any differently or be seen as the victim. Understandable but also really sad because that is how so many abused feel, which keeps them silent and stuck. She wanted her Dad to shake her abuser's hand and put the incident to bed.
I can't blame her Captain Gregson for being unwilling to do so. What I didn't expect was Kitty to become his confidant, but it made sense in retrospect.
I know she doesn't want you to talk about it to anyone in any official capacity. But you should talk about it. Perhaps to someone whose secrets you've agreed to keep.

Kitty
She, out of anyone, could relate best to what Hannah was going through. She survived much, much worse and it changed all of her relationships. Her advice was to shake Stotz's hand, which honestly surprised me. Kitty really doesn't seem like the forgiving type and she really isn't.
She's the kind of girl who takes care of those who have helped her and maybe can't do what needs to be done without jeopardizing his relationship with his daughter or his career. 
Gregson shook the hand of the man who hit his daughter, which I couldn't even imagine how hard that would be to do. Before you think the abuser got the upper hand, Stotz chased after Gregson so he could make it very clear to the "English one" that he was leaving the force. 
Gregson: Stotz is leaving the force.
Kitty: Glad to hear it all worked out.
Gregson: What did you say to him?
Kitty: Does it matter?
Oh Kitty. I'm on your team now. 
Kitty and Sherlock solved the case, of course. The lawyer's involvement was an unexpected twist. The mastermind wasn't extremely difficult to pinpoint, but as long as the ride to get there is entertaining, I won't complain. 
Overall a solid episode, although not as compelling as last week's episode. Joan was missed, but it wasn't as unbearable without her as I would have predicted it would be a few weeks ago. Kitty is really starting to grow on me and she is becoming a welcome addition, rather than an annoying interloper. 
What did you think of tonight's episode? Were you surprised by Gregson shaking Stotz's hand? Are you Team Kitty now too? And don't forget, you can watch Elementary online via TV Fanatic and binge watch the new season over the holiday weekend. 
NOTE: Elementary Season 3 Episode 6 will air on Thursday, December 4.