Forever Season 1 Episode 9 Review: 6 A.M.
Paul Dailly at . Updated at .
A young man was murdered while trying to prove his father was the man behind a popular Jazz song on Forever Season 1 Episode 9.
The deceased was introduced to us as Isaiah Williams. I will admit, at first he came across as annoying, but I grew to like him more as the layers were pulled back on his life.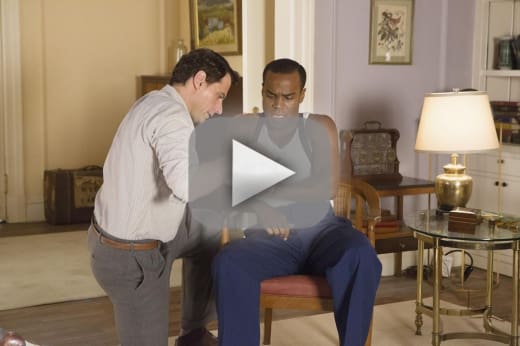 It's so sad that it took Isaiah dying to actually find out the truth about who really made the song. It would have been heartbreaking if it turned out that his father never wrote the song, but I'm happy to say he did. 
I don't understand why Pepper let the song be taken in the first place. It took his life away from him. His kids essentially disowned him. He lost everything. I almost burst into tears when he was told about Isaiah's murder. He was distraught.
Something seemed off about Dove Bum records and Mr Rainy just irritated the life out of me.
For a start, he was smug as hell and seemed to think he could worm his way out of every lie he told. He couldn't. Joanna, Jo and Henry knew he was hiding something. It was obvious to us at home that he knew who the killer was, but wouldn't say who. I just wanted to throw my remote at the TV when the master copy never played. I was so eager to see the smile wiped from his face. Ugh.
Who'd have thought that the solution to fixing the master copy would be to bake it in the oven?
Henry, please tell me you did not take evidence home and cook it?

Jo
Having the killer be someone who had barely 30 seconds of screen time made me feel like the episode relied on cheap shocks to advance the hour. Don't get me wrong, I love when I don't guess the killer before they are revealed, but when someone I discounted as a mere extra is the one who carried out the evil deed, I can't help but feel a little disappointed. I expected better from Forever.
Butt Grey's motive was a good one. I'm sure it would be hard for anyone to see a deceased relatives character be judged. His father deserved to be known for the fraud that he was, whether he was dead or alive. His greed caused Pepper's family to break up. 
Pepper realized who the killer was before we did, thanks to evidence on Jo's desk, which made for good TV as he set out to avenge his sons death. I can only imagine what went through his mind knowing the truth. 
This episode again showed us how much of a nice character Jo is. The woman felt a connection with Pepper, they had both lost a loved one. Jo went out of her way to make sure Pepper reunited with a loved one -- his daughter. The reunion was a beautiful way to end this case.
Joanna's nephew being part of a group who illegally stole music was an excellent way to give her more screen time and flesh out her character. She has been underused so far. The scene when she presented Mr Rainy with the cuff link was excellent. She wanted justice and she knew she was going to get it! I hope she continues to have a more prominent role in future episodes. 
I'm learning that you have all sorts of unexpected dimensions.

Henry
It was refreshing to find out that Henry doesn't know everything after all. He had to rely on Abe this week. This must have been humiliating, considering he has been around for so many years and normally has an answer for everything! Abe knew the answers to most of Henry's questions. The answers Abe didn't know, were found in flashbacks. 
Abe: Rules are rules, Henry. No opera before 8 am.
Henry: It's quarter past 10.
Henry seemed a bit upset that Abe didn't enjoy his piano lessons and that he leaned more towards Jazz music, taught by next door neighbor, Icy. I liked how Henry grew to like Icy after seeing how happy the lessons made Abe. Henry acted like any father would, which was nice. It's amazing how the roles are reversed between the two characters now. 
'6 A.M' wasn't Forever's finest hour, nor was it the worst. I enjoyed the development of our characters, but the case left a quite a bit to be desired. 
Other bits from the episode:
Did anyone feel like they were watching an episode of The Originals because of the Jazz music?
How funny were the one-liners between all of the characters?
I liked how the writers managed to effortlessly weave the story from the past to the present. 
I kept expecting Icy to be shown in the present.
Remember you can watch Forever online right here on TV Fanatic! Catch up now if you missed any of the clues. 
What did you think of the episode? Did you agree about the killer not having enough screen time? What was your favorite scene from the episode?
Paul Dailly is the Associate Editor for TV Fanatic. Follow him on X.