Haven Season 5 Episode 10 Review: Mortality
Carissa Pavlica at . Updated at .
There better be a big shade of gray moment coming up.
On Haven Season 5 Episode 10 Dwight decided to share with Charlotte the mystery of the Troubles. His motive was pure in doing so, with the belief that a potential DNA marker (that Pete didn't dispel) could mean the end to the Troubles.
Discovering Charlotte is not who she said she was took the wind out of the sails what could have been an interesting plot and a potential happy series ending.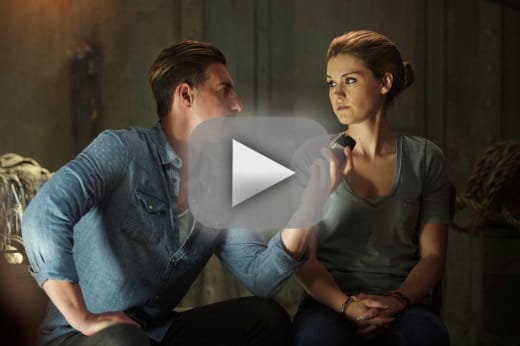 It's no wonder Havenites are suspicious of everyone all the time. The thing is, I don't buy it. It is completely unrealistic that every single person who learns of the Troubles is on the side of evil or in it for personal gain.
Maybe the supernatural today is just science we don't yet comprehend.

Charlotte
What we know is Charlotte is not with the CDC. The pesky previews appeal to the evil in her with Vince's anger that Dwight dared to confide in an outsider. A silver lining could still be uncovered. She may not be from the CDC, but also not out to harm anyone and truly interested in finding out why Haven is plagued with Troubles, as well as creating a means to cure them. 
Dwight is great at his job and is making good decisions for the town. Hopefully this isn't a contrived move to get Nathan back into the Chief's chair. With Audrey's status still relatively unknown (the bear reference was valid), Nathan doesn't need the stress of being Chief. 
Duke didn't fall for Mara's ploy as everyone initially suspected. He chose to trust her just enough to give her a chance to alter the Troubled person causing the contagion. Of course, that didn't work out as planned, but what she said also had merit.
By plunging the screwdriver into Pete and leaving him on death's door, Mara took away Duke's concern about killing because he essentially put him out of his misery instead. In my eyes, killing him when he was going to trigger all the Troubles would have had the same effect, but Duke doesn't have the heart of a killer.
Mara got the blood on her hands and left Duke no choice but to absorb Pete's Trouble and put an end to them for his entire family line. What really stood out was the conversation Duke and Mara shared on the drive home. She didn't manipulate Duke as much as she forced his hand.
Was Audrey's method of getting Duke to absorb Troubles to keep her hands blood free? It's possible. Frankly, no rational person would want to take a life no matter the reasoning behind it, so I wouldn't blame Audrey. It was just an interesting perspective to open up dialog on the subject.
Maybe Charlotte will prove herself valuable when she cures Audrey, who retained the illness. That could happen, right? Something positive for a change? Unfortunately, I'm betting she's responsible for it somehow. I just cannot imagine how or why.
If I were Audrey, I would also be running to find Kirby for more information on how her and "her twin" will die and when. Could you learn something like that about your future and not want the details? At least you then have a chance to try to skirt your final destination (loved that movie). 
So what are your thoughts? Would you like an explanation to how Audrey was delivered from Mara to ease her (and our) worry over whether she's just an empty bear? Is there a chance Charlotte will be a nuanced character and neither good or evil? 
If you missed any of the action, you can watch Haven online right here via TV Fanatic!
Carissa Pavlica is the managing editor and a staff writer for TV Fanatic. She's a member of the Broadcast Television Journalists Association (BTJA), enjoys mentoring writers, wine, and passionately discussing the nuances of television. Follow her on Twitter and email her here at TV Fanatic.