Hell on Wheels Season 4 Episode 11 Review: Bleeding Kansas

Sean McKenna at . Updated at .
After watching Hell on Wheels Season 4 Episode 10, I believed Sidney Snow was shot and killed by Ruth, allowing the final three episodes of the season to build off that trajectory that could see the church lady hang for her actions.
A promo for Hell on Wheels Season 4 Episode 11 that played after the hour proved that Sid didn't die but was instead clinging to life. So my initial review's assumption, not having watched the promo, wasn't wrong in the outcome, it was merely delayed by one episode.
"Bleeding Kansas" was all about the tension of whether Sid would die from the gunshot, leaving the possibility hanging that the actual good person would have to pay with her own life.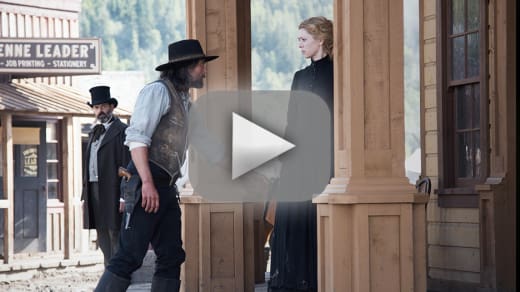 I had a feeling that Sid wasn't going to live, mostly because that would have been too easy of an out for Ruth. As much as I liked the addition of Sid to the story of Hell on Wheels, his death by her hands put the drama of the show in a much more moral quandary.
How could it be that someone who is by the show's standards a good person be faced with the consequences of something like being hanged for killing a bad guy? This is like the wild west, right?
It's obvious that even with John Campbell's questionable antics, his sentiment that there has to be some sort of law and order rings the most true in the situation, even if we don't necessarily want it to follow through.
In fact, there's so many movies and shows that we watch where a character goes on a revenge streak leaving bodies in his or her wake because those bad guys must be taken care of. We have even seen Cullen Bohannon seek his own revenge.
But that lawlessness isn't quite the norm anymore in Cheyenne, and Ruth will have to pay.
I expected Cullen to give Ruth a chance to run, to do something that wouldn't put him in a position to have to take her in.
So it was interesting to see her admit that she felt satisfied from the vengeance for what was essentially the death of her son, Ezra. She was willing to face the consequences and close that jail door after what she'd done.
It certainly separated her from her father (an awesome return appearance by Revered Cole actor Tom Noonan) who killed in the name of religion. I liked getting the flashbacks to see some of what put Ruth on a less violent path.
And really, this was a graphic episode full of blood, cut off legs and ripped out eyeballs. Even I had a tough time watching some of those scenes. Living back then was clearly no easy street.
I'm certainly curious about Mickey's cousin and crew joining. They're a threatening sort of bunch, and I want to know more about them and just how they will fit into the story.
But it makes me question how a man's eye can be ripped out and that doesn't make John Campbell put him in jail. Doesn't that seem weird? Only getting killed can do something?
At the same time, it was a positive thing to see Thomas Durant helping out when really he didn't need to. He was essentially the bad guy back when Hell on Wheels began, but he's grown to be much more aligned with the good guys as of late.
Plus, I liked his little story about being called "Doc" and how history will remember him, not Cullen, when it comes to completing the railroad.
While I'm still not sure about the logic of Hell on Wheels going away for a month to then deliver the final episodes, the show's return did add some much needed extra layers for Ruth's character, ramped up the tension involving her fate and put Cullen at the very forefront of trying to fight for Sid and Ruth's life.
If anything, while the hour simply stretched out Sid's death, Hell on Wheels Season 4 has continued to feel much more like one story than separate vignettes strung together with the characters. It feels like we're headed towards something big with the railroad, story and characters.
It makes me look forward to seeing what will truly happen to Ruth, what Mickey's new ally will mean in the long run, and just how the Swede will play back into everything. Plus, with the announcement that Hell on Wheels will get one final season, fans of the show will be able to see the saga that has improved so much get its chance to reach a designated final destination instead of being derailed mid-ride..
What did you think? Did you think Sid would live? What's going to happen to Ruth? And be sure to watch Hell on Wheels online to catch up before the finale.
Sean McKenna was a TV Fanatic Staff Writer. He retired in May of 2017. Follow him on Twitter.