Supernatural Spoilers: 8 Things We Know About Episode 200
Jim Halterman at .
When Supernatural Season 10 Episode 5 airs tonight, fans will receive something of  a love letter from the popular CW series.
That's what happens when you reach the 200 Episode milestone.
In some ways, it's a typical Supernatural installment, in that there's a case that Sam and Dean Winchester work together to solve. But there's so much more that pays homage to so many of the characters, stories and, yes, the fan fiction that is a big major legacy of the show.
Without giving too many spoilers away, here are eight things that we learned when TV Fanatic got an early peek at Supernatural 200, appropriately titled, "Fan Fiction." Let's put the Impala in DRIVE and do this...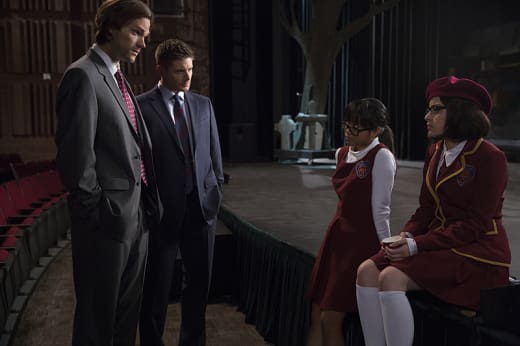 1. The show within the show is a musical based on the Supernatural legend. No surprise, it's called "Supernatural: The Musical."
2. One brother hates the idea of being amongst theater kids while one brother is rather charmed by it all. Now which brother is Sam and which one Dean? 
3. Watch the faces of Sam and Dean when they see first see their lives unfolding on a stage in a school auditorium. Will make you giddy with delight!
4. The line between Supernatural fans talking about subtext (including Destiel) and it actually being a part of the show (or at least this episode) gets very, very thin. 
5. The actress playing the 'Sam' role in the play has the appropriate cheek mole, a la Jared Padalecki.
6. The songs in 'Supernatural: The Musical' are not throwaway at all. In fact, they're all quite good and the girls in the musical have damn good singing voices.
7. Someone does actually say 'The show must go on.'
8. You may never think of the iconic Supernatural song, 'Carry On My Wayward Son,' the same way again after this episode.
Supernatural Season 10 airs Tuesdays at 9/8c on The CW. 
Jim Halterman is the West Coast Editor of TV Fanatic and the owner of JimHalterman.com. Follow him on Twitter.