The Good Wife Scoop: Matt Czuchry on Cary's Traumatic Journey, Feelings For Kalinda & More
Jim Halterman at .
Life has been hard for Cary Agos.
And from what actor Matt Czuchry told me earlier this week, things are not going to let up anytime soon.
Whether he's a pawn in a political game or maybe less innocent than we realize regarding some of his charges, it's been tough watching one of our favorites on The Good Wife Season 6 get roughed up so much, both in and out of a jail cell.
Czuchry talked about the challenges he's faced with this meaty storyline, as well as how he sees Cary's feelings towards Kalinda and what we'll be seeing (or hearing) on The Good Wife Season 6 Episode 8, which airs this Sunday.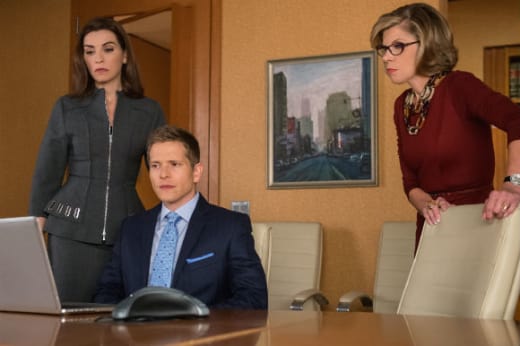 TV Fanatic: In a general sense, are you feeling challenged differently this season because of this meaty story?
Matt Czuchry: Yeah, we've followed this one case through the first half of the season and structurally that's very different for the show and for me as an actor the case is certainly heavy and taxing in a way that I haven't experienced in the previous seasons especially because it keeps building and building.
TVF: Having watched what Cary has gone through so far, we've seen some cracks in his armor but what do you think is keeping him together at this point?
MC: Well, I think these moments of trauma really bring out all sides of who you are and one of those pieces is him trying to maintain that strength for his personal life and his career. In terms of holding those things together, certainly Kalinda has been a champion for him and that's helped him. Certainly Alicia and Diane professionally – Kalinda personally –  have been fighting for him in court so all of those things are keeping him together and maintaining that strength but with each thing that builds it becomes more and more difficult to maintain that strength.
TVF: You mentioned Kalinda. How would you characterize his feelings for her at this point? I would think he doesn't fully trust her, which very complicated and juicy but what do you think?
MC: That Cary-Kalinda relationship has ebbed and flowed since season one. In season 2, Cary protected Kalinda and now Kalinda in a lot of ways is protecting Cary so it's certainly ebbed and flowed. They are very different characters with each other and I think that opposites attract kind of aspect is something that's gone on in the entire series.
Right now at this particular point, I think Cary needs her as his champion and although they may have had their differences in the past she's fighting for him. She's trying to keep him out of jail regardless of that 30 foot rule they're trying to work with to beat the system to stay together in that way. She's going out of her way to put herself on the line for him. Cary needs her. Cary is depending on her. I think their relationship in a lot of ways is closer, although complex and complicated this season though closer than it ever has been before.
TVF: In the last episode, we found out that Cary was protecting Peter for some of the things that happened in the past. What has kept Cary so honorable when he could've turned in Peter and had some of the heat taken off?
MC: His strength comes out in that moment. In the beginning of [The Good Wife Season 6 Episode  1], he gets arrested because they're trying to get to Bishop so a lot of what we've been addressing is the grey area of someone being accused wrongly and the moral ambiguity of that.
Cary finds out what it's like to be in jail and what it means when your life can change in an instant. So he's very personally and professionally keenly aware what would happen to Peter if he would out him in that moment. So from his experience at the beginning of this season, he doesn't want to put someone else through that. I think that shows Cary's strength and how he's grown from this experience.
TVF: Will we see his morals continue to be challenged as we move further into all of this?
MC: It is continuing to build and you get more insights into the Cary/Bishop relationship and that continues to build and intensify and I think in that regard between Cary and Bishop is where you'll see some of that grey area continue to come out. You'll see Cary's strength continue to come out with that relationship in particular.
TVF: Do you think the viewers will be tested at all? I feel like we're so on Cary's side but do you think that could be challenged in what's coming next?
MC: I think there is a lot of moral ambiguity that comes up as we approach the trial itself so things are building to that. I think there will be some grey areas in terms of what it means to represent your client in an effective way.
TVF: You've had your clothes off a lot this season, Matt. More than ever before…
MC: You know, I think with the relationship with Cary and Kalinda and, as I mentioned before, with that relationship getting closer and getting more intimate because of Cary's situation, that's been an organic way to further that relationship with those two characters getting closer because of this traumatic event. That's been the result of this storyline for these two characters needing each other personally and needing that intimacy as they go through this incredibly traumatic time.
TVF: How would you tease the next episode? What's the next step for Cary?
MC: We're building onto a new piece so with episode 608, basically you're going to hear some of the wiretap from the CI (confidential informant) and you're going to hear what Cary actually said to some members of Bishop's crew. Ultimately, it hasn't come out but we've had several things pertaining to the wire itself so we're kind of narrowing it down in terms of getting more specific to what actually happened and the audience will hear that wire and what Cary said to Bishop's crew. 
The Good Wife Season 6 airs Sundays at 9/8c on CBS.
Jim Halterman is the West Coast Editor of TV Fanatic and the owner of JimHalterman.com. Follow him on Twitter.