The Good Wife Season 6 Episode 10 Review: The Trial

Krystal Sondel at . Updated at .
Storytelling is what sets The Good Wife apart from many other dramas on television today. 
On The Good Wife Season 6 Episode 10, we watched Cary's trial FINALLY play out, and had the chance to see the case from a variety of different characters.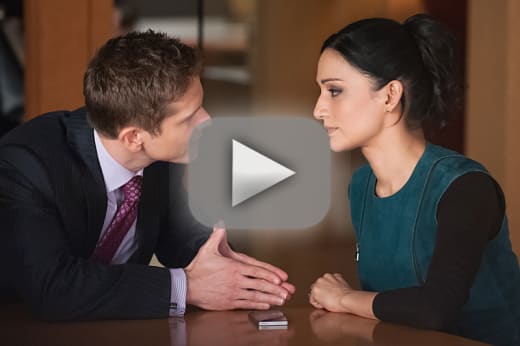 Whether it was Judge Cuestra, Juror #11, ADA Pine, or Cary himself, The Good Wife presented this case from all angles, and gave us a new way to look at the courtroom. Without diving too deeply into any story, we had the chance to see what factors determine the way things play out during a trial. Of course, the facts of a case are the most important, but the jury, the state of mind of the attorneys, and even the mood of the judge can all factor into the determination of a case. 
It was a brilliant move by The Good Wife writers. This was a heavy topic to take in, and they gave us a chance to see the lighter side of things (like Judge Cuestra singing "Sweet Caroline"), which helped get us through to the end. 
Plea deal
So, Cary took the plea deal ADA Pine offered him; FOUR years in prison, which would be reduced to two years with good behavior. After rejecting the first plea, getting a brief win in court, and getting a little more help from Kalinda, Donte, the key witness Cary needed to find, testified on the stand. Things were looking up, until Lemond Bishop walked into the courtroom and Donte lied on the stand. 
Lemond Bishop always has the upper hand. That was quite a threat Kalinda made, using Bishop's son to get what she wanted, but Bishop always has a plan. 
What an explosive scene between Kalinda and Bishop in Bishop's home. The intensity between the two had my heart racing, and as it wrapped up with Bishop warning Kalinda to never threaten him again in the courtroom, I was blown away by the acting. Both Mike Colter and Archie Panjabi were superb as they exchanged quips. Emmy worthy? Only time will tell, but The Good Wife fans can hope!
With an appeal impossible now that Cary took the plea deal, it looks like he is headed for prison. I can't imagine Cary will remain in prison for his full sentence, unless they do some crazy time jump, so how does he get out? Perhaps new evidence will come forward, or maybe Kalinda will be the one to save the day as she exits from the show? My bet is on the latter. She has been such an integral part of this case, and I can't imagine she will get much sleep until she finds a way to help Cary. 
It all comes crashing down.

Cary
It's the cliffhanger that will have The Good Wife fans debating during the month plus hiatus. Make sure you share your thoughts in the comments below. 
It was a joke!
In a more lighthearted storyline, Alicia was on the hot seat again, after a threatening letter to one of Grace's teachers hit the news. We also had the chance to be graced with the presence of Jackie again, although Jackie's appearance usually doesn't mean anything good for Alicia. 
The letter was over the top; a joke Alicia wrote to cheer Grace up. It was funny, really funny. But, in all seriousness, it was a threat to the school and they handled it appropriately. In an interesting turn of events, Grace's Civics teacher tried to blackmail Alicia to get a seat on a Safety Commission, but she wouldn't have it. Good thing her husband, Peter, isn't as moral as she is. 
It all worked out in the end, not to mention produced some great one-liners between Eli, Johnny and Marissa. Marissa is really growing on me as Alicia's "bodyguard." She is a fun challenge for Eli and Johnny to take on, and always has Alicia's back. 
Other thoughts:
As Cary walked off the elevator, the scene with Alicia was a great callback to earlier this season when Cary was released from jail. Quite a different set of circumstances this time around. Watching Cary and Alicia interact this season (in the very small doses we have seen), has solidified how strong their friendship is. They have truly come a long way.
There are times when you don't even need to say a word to convey a message. Cary's opening scene, looking around the courtroom, really set the tone of the episode. It was reflective, silent and perfectly acted by Czuchry.
Finn and Alicia in the world's ugliest diner was hilarious. Especially when the lights went out, the waitress brought over a candle, and a guy started playing music on his guitar. Is the universe trying to tell them something?
So, that's it until 2015 for The Good Wife. It's going to be a long month plus before we have a new episode and see how Cary is doing in prison. Don't forget, you can get your fix and watch The Good Wife online.
With almost half of season six in the books, what are your hopes for the rest of the season? Which character are you most interested in seeing more of in the new year? How is season six comparing to other Good Wife seasons for you? 
Krystal Sondel is a staff writer for TV Fanatic. Follow her on Twitter.