To play dirty or not to play dirty. That was the big question for Alicia on The Good Wife Season 6 Episode 9. Speaking of dirty, dammit PETER FLORRICK! But, I'll get to that in a minute. 
It was an episode video editors would have loved as Elfman and Josh worked on editing various cuts for Alicia's campaign videos. I got a kick out of them rewinding film, slicing and dicing, and even changing around Alicia's clothing choices. They can work wonders in those videos and frame it exactly as they want it, and that's just what they did.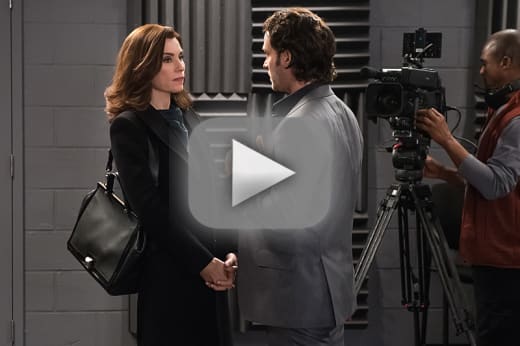 Political ads are one thing I'm glad are finally off my television screen now that election season is over. They are horrible, and nine times out of ten blatantly negative!
Patriotic boxed oppo research
Which brings us to Frank Prady and his taped blue box. He brought the box to Alicia and told her it contained oppo research on her and her family, and that he wasn't going to use it. He wanted to run a clean campaign, and he asked Alicia to do the same. 
This Frank Prady guy is growing on me. There's a teeny tiny part of me that thinks he may be out for blood, and not as good of a guy as he lets on, but the rest of me thinks he is a good guy, trying to win a good race. 
I want to do this differently. I want to not pound you into submission, and I want you to not pound me.

Frank Prady
There's also this odd friendship forming between Prady and Alicia. Whether they chatted on the phone or met on a park bench, they seemed to be on the same page, and truly respect each other. It will be interesting to see if anything changes that, or if two opponents can genuinely run fair campaigns. 
As for that blue taped box, if it was me, it would have been opened the second Prady walked out my door. Alicia, though, stared at it, drank a glass of wine and even moisturized her hands before she finally ripped off the tape and dug in. 
What she found were incriminating photos of Peter and Ramona. It led to one of my favorite interactions (and there have been some really good ones) between Alicia and Peter where she demanded he zip up his pants and shut up. Boom. Alicia's been to this rodeo once before and she won't be anywhere near Peter if it hits the press. 
Not that Alicia is all that innocent herself right now. A very close encounter with Finn at his office, late night, made it clear that there are feelings there. Alicia, though, didn't act on those feelings like Peter did. Finn clearly wants more, but he didn't press the issue other than saying things could be simple if she wanted them to be. 
I wish it wasn't so necessary for Alicia and Peter to put on a show and be the perfect couple in front of the cameras, finishing each other's sentences about how they met. If I have one hope for The Good Wife, whenever the show wraps up, it's that Alicia can move on from Peter and find happiness. Whether it's with Finn, or someone else, she deserves a chance to find someone to love her. Okay, I'm off my soap box (for tonight)!
Cary has a bodyguard
As the previews hinted last week, Bishop was on tape planning out Cary's murder. Cary thought the tape was fake (I think he might be the only person in the world who thought that), but it was legit.
Kalinda and Diane felt Cary needed protection, so they hired him a bodyguard, on the firm's dime! Florrick Agos Lockhart & Associates are spending quite a bit of their money on this trial. How can they stay in business? Especially considering none of the partners seem to be doing any trial work! 
So what's the best thing to do when you find out someone wants you killed? Go over to their house and face them. At least that's what Cary chose to do, and it made him look fearless, like he had nothing to lose. Sure, Bishop's not going to have Cary killed in his home, or even after he leaves his home, but that took some major courage. I would have hid. Far, far away. Well, at least as far as my bail terms would allow me to go. 
As the feds brought the wire tap to Cary, we saw Lana and Cary face each other for the first time since Cary and Kalinda "broke up." Lana's definitely in this case more than I initially thought, and things are not looking good for Lana now that the wire tap has been leaked. 
I went back and forth wondering if Cary should just give in and help the feds, but in the end I don't think there's any way he will. We've seen this season what happens when you cross Lemond Bishop. You don't usually live to tell it. 
The winter finale of The Good Wife is almost here. Don't forget you can watch The Good Wife online, and catch up on all the episodes before the winter finale. What are we going to do without The Good Wife for an entire month? 
Join me on Twitter next Sunday night, as I live tweet during the episode, and share your thoughts. In the meantime, join the conversation below and let me know what you thought of tonight's installment. 
What do you think about Peter's latest transgression? Will Cary eventually flip and help the feds? What's next for Alicia and Prady in their campaign runs? 
Krystal Sondel is a staff writer for TV Fanatic. Follow her on Twitter.