It was a night of coming to terms with reality on The McCarthys Season 1 Episode 4.
After Marjorie received the book Goodnight Moon to read to her soon-to-be grandchild from a friend at bridge (how dare she), Marjorie went into full on panic mode about becoming a Grandma.
Arthur, however, was ready to be a pop pop, and he's really a big softy. I think he's quickly becoming my favorite member of the McCarthy clan. 
You call yourself poppop and I will put you in a home.

Marjorie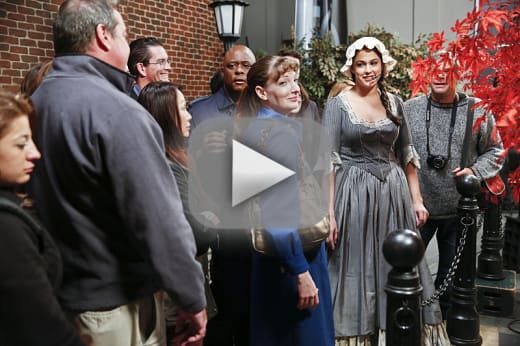 On top of that, after Jackie received a brochure of all the things you can't do while you are pregnant, the family decided to give all those things up to be there for Jackie. It led to scene after scene of the McCarthy clan doing everything they shouldn't do; from riding roller coasters, to eating sushi, to relaxing in a sauna. 
It's so true that as soon as someone tells you that you can't do something, you want it even more. I've never been pregnant, but the thought of giving up wine or sushi for nine months is scary. That struggle would be real. I wouldn't mind not being able to clean the litter box, though!
Jackie caught the family dining out at a sushi restaurant enjoying sake, and The McCarthy clan was busted. It even resulted in Jackie updating her Facebook page to pregnant and an orphan! 
In the end, the entire clan headed to Jackie's OBGYN for her sonogram, and as they heard the baby's heart beat and saw the baby on the monitor, Marjorie was ready to be a Grammie. 
Just when I started giving up on The McCarthys, they aired something really good. The best one, by far, in the show's freshman season. It was funny in all the right places, and it was real when it needed to be.
There were so many great one-liners, make sure you check out The McCarthys Quotes page for all the hilarity!
While becoming a Grandma isn't something I can relate to, coming to terms with reality is. We've all been there, whatever our "becoming a Grandma" is, and Marjorie dealt with it like many people do!
The scenes of the family breaking all the "can't do" rules were great. I found myself laughing a lot throughout. (Which made the overkill laugh track disappear)
The last scene continued to reiterate how much this family means to each other. While they can't always show their love, or voice just how much they care about each other, that scene in the doctor's office was touching. 
Don't forget you can watch The McCarthys online, and relive all the great scenes from tonight's episode. 
So what would you have the most trouble giving up while pregnant? Is the McCarthy family growing on you?
Chime in on the comments below and join the discussion!
Krystal Sondel is a staff writer for TV Fanatic. Follow her on Twitter.