Covert Affairs Preview: Matt Corman, Chris Ord on Annie & Auggie's Future, Big Changes & More!
Jim Halterman at .
We're used to big season finales from USA's Covert Affairs and with so many burning questions waiting to be answered, tonight's fifth season finale is not about to disappoint:
With many of our team splintered in different places, will Annie rejoin the CIA and be back in our team?
What is Auggie's future after he's been through recently?
Are Joan and Arthur going to remain in a good place or are there changes coming for them?
To find out this and much more, I jumped on the phone yesterday with series creators Matt Corman and Chris Ord, who teased Covert Affairs Season 5 Episode 16.
While they didn't give up spoilers, they did answer a big question about whether a romantic future is in the past with our core couple, Annie and Auggie. Read on to see what they had to say ...
TV Fanatic: Let's talk about Annie and Auggie. They've been paired off with different people this season but they're still such the core of the show in many ways and there's still a great friendship there. Is a romantic pairing of them in the past?
Matt Corman: As you said, at this moment in time, they're being pulled in different directions, at least romantically. Now, is that the end of them? We don't know.
Chris Ord: You hit the nail on the head when you said there's a great friendship there. I think that great friendship is what spurred their romantic relationship in the first place and that great friendship hasn't gone away so in our minds, the potential is always there between them at any given point.
TVF: I feel guilty liking Annie with Nic Bishop's character, McQuaid!
MC: Well, that's okay! I think it's complicated, life is complicated and I think she's torn, too. I think she's trying to find what works for her and who she is as a person. It's interesting, one of them has to be ready to take the next steps and then they sort of present themselves in life. The fact that she was open to this proposal created the environment where it happened.
TVF: There's a lot of talk in the finale about being in and out of the agency. Is that a big part of the finale?
CO: She's been outside the agency since about episode nine when she left to actually investigate Ryan as an op and obviously so much has changed since then. But look at what she's been doing. She's an operative at heart whether she's in the CIA or outside the CIA she's always operating so at least there's that commonality and then it's question of the rules of the CIA. Will they allow her back and, if they do, under what conditions? There's a lot that goes into a decision like that so we're going to explore some of that finale and then next season.
TVF: How much is Annie's health playing a factor in what's to come and how big of a threat is that?
MC: I think it remains something she has to deal with and I think it's a physical question for her reckoning with it and then an emotional one as well because she always has to reconcile with do I assume this extra risk for this job that I love or do I fade away? it kind of crystalizes that question and becomes a little more specific.
CO: Think of a professional athlete who gets an injury, wants their career to continue but at what cost and how much are they willing to sacrifice down the line if they do.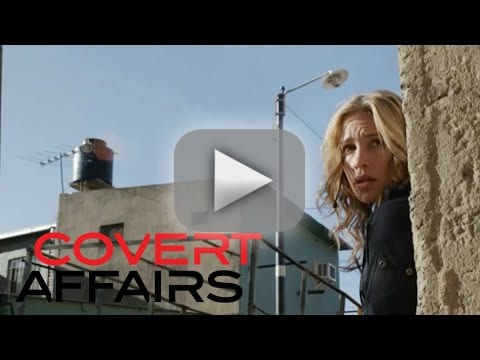 TVF: Arthur and Joan are at an interesting place in the finale. What can you say is coming for them?
MC: There are big changes coming for both of them both professionally and personally. They're going to be making some choices that are going to seismically change their lives.
TVF: I loved seeing Ana Ortiz in the episode and she's usually in much more comedic roles but will we see more of her moving forward?
MC: We love her and I'd say if there's a place for her going forward, that would be great. That was really a fun couple of scenes with Peter and I'd say there's room for her character if we, knock on wood, do go forward.
TVF: Just as Annie and Ryan are going through their relationship stuff, what's coming for Auggie and Natasha?
CO: The thing we'd say that's akin to what Matt was just talking about for Arthur and Joan, this episode presents a lot of major life changes for all our characters and major life opportunities. For Auggie and Natasha, there are some bigger life opportunities that they need to weigh and decide and choose.
TVF: Will we get some time with Annie and Auggie in the finale?
MC: There are some really nice scenes between Annie and Auggie and I think the Annie and Auggie fans will be very satisfied.
TVF: Do you think all our characters can survive without each other? There's such a family element to the show yet they're all being pulled in different directions.
CO: It's a really good question because a lot of these characters have defined themselves in work and outside of work by their relationships to one another. We are scattering them a bit but it remains to be seen going forward how they sustain that and how they manage and if they can. I think you're right, though, the bedrock of the show has been these interconnected lives that came together in the work place but transcend the work place.
TVF: What are we going to see with Calder? Hill Harper has some good scenes in the episode, too.
CO: Going forward, I think we can expect an expanded role for him in certain respects. We really like his dynamic that he has with Stephanie so should she pull through there could be great drama to mine in that dynamic and if she doesn't, I'm sure he'll draw on that experience as well but her life hangs in the balance.
TVF: Belenko doesn't seem like quite the full-on enemy that I was expected but he does some not-so-bad things in the episode.
MC: He's a complicated guy and I think the idea is once you engage with somebody you realize that they have their own agendas. He's done some terrible things but he also has his own inner logic and Annie is just trying to corral that and recognizes that as despicable as he's been he can be an amazing asset. I think going forward we can see that…he's a complex guy.
TVF: I feel like when we come to any season finale, the potential is there to really change things up moving forward. Is this finale going to do that?
MC: Hopefully. I think for us, we wanted to present some major changes for all our characters. going forward, all our characters will have a lot to think about and decide and to us that can only create big changes for everybody.
Covert Affairs airs Thursday at 10pm on the USA network.
Jim Halterman is the West Coast Editor of TV Fanatic and the owner of JimHalterman.com. Follow him on Twitter.