Covert Affairs Season 5 Episode 16 Review: Gold Soundz
Paul Dailly at . Updated at .
Did we really just say goodbye to Annie Walker and friends?
We don't quite know the answer to that question. Damn you, USA Network!
Covert Affairs Season 5 Episode 16 was for the most part, a low-key season finale. The writers did really well bringing a lot of stories to a potential close. It was a bit worrying that the wrap-up didn't kick in until the final 10 minutes. 
We leave these wonderful, vivid characters as they are at an important stage in their lives. They are ready to jump on to new challenges, but If you thought you'd find them all under one roof at Langley, you're sadly mistaken. 
The final scene with Auggie and Annie was the best of the episode. It was refreshing to have them both talking and out of danger. Annie sure seemed upset at his decision to quit his job and travel the world again with Tasha. I don't doubt for one minute that getting to see Auggie on a daily basis came into her decision making process on whether or not to take Joan up on the job offer. It would be really weird having Annie there, but not Auggie. If the show returns, this won't stick.
I don't think I was the only one who thought McQuaid was going to be killed off. I thought it every time they professed their love to each other and then when he and Annie decided to marry if they got home alive. Did anyone start writing his eulogy?
McQuaid: If we ever get out of this, how about we get married?
Annie: Seriously?
McQuaid: Absolutely.
The opening to the hour was tense. The way Calder and the team went all stealthy to sneak into the apartment complex made me feel a little uneasy. It was foolish of him to open fire through the door in broad daylight. He could have shot an innocent bystander! His actions stemmed from his rage at what happened to Sidney. 
So.. Belenko managed to outlive us all! Yes, he managed to scrape by and survive the finale. This was an irritating development. After everything he did, he deserved to meet his maker. Instead, he was given a chance at redemption. However, the man simply cannot be redeemed. None of us will ever like him (right?!). He isn't even an interesting character. Hopefully he doesn't return if the show does.
Annie: It's not about satisfaction.
Belenko: Then what's it about?
Annie: Revenge. The Russians gave you up. Now you can hurt. The enemy of my enemy is my friend.
Belenko: Thank you, friend.
Meanwhile, we finally saw the return of Annie's heart problem. She never even managed to take her medication for it. The whole part with Joan saying that if she isn't allowed to return then Langley needs to rewrite the rules was complete bull.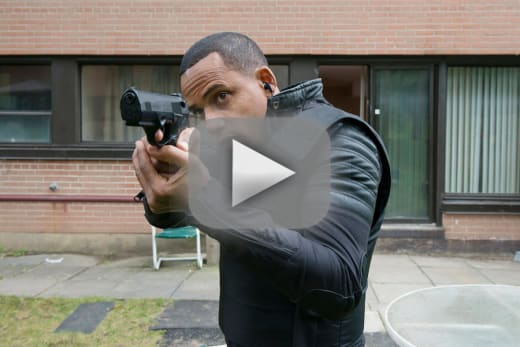 The notion they'd let Annie return with her problems is downright ludicrous. She is a liability to the team in her current state and should be in an office or retiring to somewhere relaxing with McQuaid. 
Annie: What make us so great is what makes this difficult. Our jobs are risky and people i've loved have died doing this work.
McQuaid: You can do this job and die and not do this job and die.
Annie: I don't wanna lose you.
McQuaid: Then don't.
Was I the only one surprised that James was actually a good guy? I kept expecting him to attempt to kill Auggie. Every scene with him kept us on the edge of our seat!
"Gold Soundz" was a decent episode of Covert Affairs, if not the best if it never comes back. It was a bit frustrating the Belenko storyline didn't end, but we should be happy we got closure to some of the other characters' stories. Hopefully we get at least one more season give us some more time to say goodbye to our friends.
Other tidbits from the episode:
How stupid were Annie and McQuaid to go out in the open? It was so obvious they would be targets for a sharpshooter.
Does Calder's facial expression ever change? 
Ana Ortiz is everywhere these days. She was sorely underused.
Annie was badass when she blew the car up with like two bullets.
Remember you can watch Covert Affairs online, right here on TV Fanatic! Relive the madness now!
What did you think of the episode? Was there enough closure? What are your hopes for the show in a potential sixth season? Sound off below!
Paul Dailly is the Associate Editor for TV Fanatic. Follow him on Twitter.