Covert Affairs Season 5 Episode 14 Review: Transport is Arranged
Paul Dailly at . Updated at .
Well, that wasn't as fast-paced as I expected it to be.
On Covert Affairs Season 5 Episode 14, Annie continued on her quest to save Auggie from Belenko, but did she succeed?
Not really. He saved himself.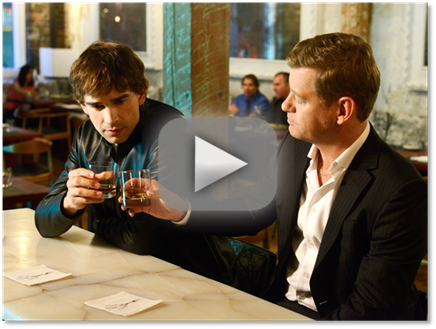 Annie was more badass than ever this week. She would stop at nothing to find her friend. She was really unpredictable and McQuaid quickly caught on to this when she shot Omar in the leg. The guy was as sketchy as sin.
Nobody expected him to really meet Annie and Mcquaid at the border. It was a very smart move to use some unlocked mobile phones to gain entry into the country. When he hesitated before letting them in, it became obvious he knew his life would be on the line if he helped them. It was understandable. The day can't always be saved without some consequences.
it's too late for your friend. If belenko has him, he's already dead.

Omar
Auggie being tortured were some of the most disturbing scenes I've seen on TV in recent memory. It must have been horrible when he was bundled into the box. It was so damn small! He probably thought at any moment he was going to die. Natasha's return was a fantastic shock. Not hearing about it prior to the airing kept me on my toes. Is there any hope for these two?
Don't worry, I'm going to help you remember.


Belenko
So... Belenko thinks Auggie killed his brother. This seems like a classic revenge story, but it also feels as dragged out as Emily Thorne's from Revenge. My heart skipped a beat when Belenko actually pulled the trigger on the explosive. All Covert Affairs Fanatics will be popping bottles of champagne when he finally gets his comeuppance. It is long overdue!
I'm not doing this, you're doing this by not telling me what I need to know. Remember that.

Belenko
The blast occurred while Annie was in a tense standoff with Belenko, after she and McQuaid tricked two of his goons. I didn't for one minute think Auggie would be killed off. I wasn't so sure about Natasha. She is an expendable character and could just have easily been killed.
It wasn't all good news. Who knew that the Calder and Sidney storyline would get interesting? For a second I thought Calder was surprising Sidney at her door after blowing her off. I never expected it to be trouble. I had a knot in my stomach wondering what was going to happen next. As the hour drew to a close, we got a nasty shock when we witnessed Sidney fighting for her life after being show. This was a cruel turn of events for her character. What will Calder do if she dies? It will destroy him.
Meanwhile at Langley, Joan attempted to get help from anywhere she could. I still think she fees somewhat responsible for what has happened. Rightfully, so. Maybe she'll think twice in future before dismissing someone who trusts her in future!
Obviously the flashbacks were present to provide insight into Belenko's motives for his actions, but they just felt like filler. Auggie could have just told him the information, rather than us having watch it happen.
The montage after the blast was beautifully shot and edited. The look of shock on everyone's faces at Langley as they witnessed the building being blown up was incredible. You could see the hope disappearing. It was an excellent idea to make this whole scene inaudible. When Joan answered the phone, obviously finding out that everyone survived, it was difficult not to tear up when everyone was happy their friends were safe.
"Transport Is Arranged" was really enjoyable. Auggie is finally safe and everyone can focus their efforts on ending Belenko's reign of evil for good. With only two installments left this season, it's a little worrisome we haven't been given any word on a renewal. Hopefully these aren't the final two hours we will ever see.
Other bits from the episode:
It felt weird seeing Sidney at Langley. We've seen her so often recently with her sugar daddy.
Annie was very convincing as a lost woman.
The soldiers seemed really happy with the phones. It's amazing how they can be more valuable than money!
Remember you can watch Covert Affairs online right here on TV Fanatic, catch up with all things Annie Walker now!
What did you think of the episode? What do you think will happen to Belenko? Will Auggie get with Natasha? Hit the comments.
Paul Dailly is the Associate Editor for TV Fanatic. Follow him on Twitter.