After the loss of Nicholas Brody in Homeland Season 3, Carrie Mathison left the United States to lose herself in her work, leaving baby Frannie behind.
The result? Well, you can read the report card to see it all broken down, but there was nothing broken about Homeland Season 4. In fact, the discovery of life after Brody was brilliantly played for all involved.
Not only did we see a more determined character in Carrie, but all of those working with her were given a chance to shine. We also met new characters, such as Martha and Dennis Boyd and saw the softer side of Saul. Let's get to it!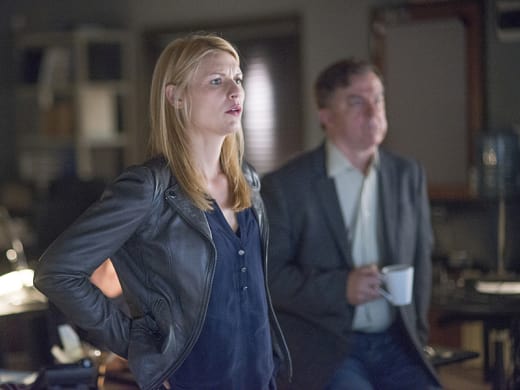 Best Episode(s): The double header of Homeland Season 4 Episode 1 and Homeland Episode 4 Season 2 was outstanding. Kicking off the season meeting someone new like Sandy Bachman (Corey Stoll), only to have him stomped to death by an angry mob as Carrie and Quinn looked on in horror as the catalyst to propel Carrie into a leadership position in Islamabad provided both heartbreaking moments and heart-pounding action. Airing them back to back gave them the feel of a feature film and made a week's wait for the next installment seem interminable.
Worst Episode: In a stellar season, it's difficult to pick the worst episode, but after watching Homeland Season 4 Episode 7 the raw feeling led to a three star rating. That's nothing against the production value, but Dennis and Tasneen's dirty dealings with Carrie were almost too much. After Carrie fell so low she slept with Aayan and was willing to drop a bomb on Saul to kill Haqqani, you'd think that would do it. Nope. It was her utter breakdown without her meds that led to her waving guns in the streets and seeing Brody as she crumbled in the arms of Aasar that did it. Ironically, some of the best Homeland quotes came from this hour as Saul dared speak truthfully with Haqqani while captured.
Edge of Your Seat Episode(s): This was a really tough call. Because of that, two will be named. Homeland Season 4 Episode 8 showcased Saul's brave fight for his freedom, only to land back in the hands of his captors as the hour ended. Carrie's desire to see Saul safe and Saul's never to be held captive again drove the tension to dizzying heights. Homeland Season 4 Episode 10 featured Quinn racing to save the day as the Embassy was infiltrated. It meant spending at least a third of the time holding your breath, another third cheering Quinn and the heroes on as they fought back and the final third trying not to weep at the utter loss and devastation caused by the traitorous Dennis Boyd.
Taking it Down a Notch: Homeland Season 4 Episode 12 found our characters back on US soil while making surprising decisions. Due to the passing of her father, Carrie found herself face to face with her mother after 15 years. Dar Adal put a teaser in front of Saul that might get him back into the CIA Director's seat and he seemed to grasp it. When Carrie didn't commit to feeling something for Quinn, he left on a black OPs mission with no extraction plan or available communications. After the rollercoaster ride, it felt rather sedate, but there was a lot happening emotionally and intellectually to set things up going forward.
Most Improved Character: At the end of Season 3 the idea Andrew Lockhart would become someone to root for would have made my head spin. Instead, once he stepped foot in Pakistan his attitude changed. He finally understood what's needed to work with people who have little respect for our way of life. Given what happened toward the end of the season, I now wish he'd retain the position of CIA Director. Who expected that? Great work by Tracy Letts.
Most Despised Character: Who didn't wish for one of those old foam TV bricks to set sailing toward the screen when Dennis Boyd dared show his smug face? He couldn't even do the right thing by killing himself. It would be nice to see a follow up to this in Homeland Season 5, if only to show viewers what truly comes of being a traitor before anyone decides to sign up to hang with the Taliban. !!!
Death Toll: We wanted Dennis Boyd or Tasneem to meet a tragic end. Instead, after the initial loss of Sandy Bachman, the body count grew. Surprising ally John Redmond died in a convoy ambush, the lovely Fara Sherazi met her end at the brutal hands of the man she helped to track, terrorist Haissam Haqqani, and there was a nice nod to the loss of actor James Rebhorn when Carrie's father passed away. 
Hopes for 2015: Once again, we're on the edge of what was and what will be. Carrie's life as a Station Chief has come to a close, and she says she wants to be a mother. Watching her struggle with motherhood could be as interesting as repairing her connection with her mother. Saul might be reclaiming his role as CIA Director as well as accepting a questionable alliance with morally ambiguous Dar Adal. Quinn has left the canvas. What all of this will do to Carrie is promising. Discovering her new relationship with Saul and what choice she makes regarding Quinn offers a lot of potential. I also hope we don't lose track of Haqqani as an evil presence, the story of the Boyds or what's next for Lockhart. There is a lot of material to mine!
Overall Grade: A 
What grade would you give to Homeland Season 4?
Carissa Pavlica is the managing editor and a staff writer and critic for TV Fanatic. She's a member of the Critic's Choice Association, enjoys mentoring writers, conversing with cats, and passionately discussing the nuances of television and film with anyone who will listen. Follow her on Twitter and email her here at TV Fanatic.