When The Newsroom began, Will McAvoy was an angry, depressed, miserable human being. Three seasons later as the show wraps up with The Newsroom Season 3 Episode 6, he's in a much different place. 
The look back at Will's start on News Night was almost unrecognizable. He cared about ratings, not the news, and he couldn't even be bothered to remember anyone's name.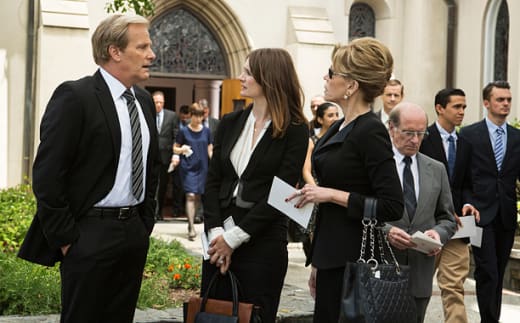 Charlie Skinner changed that. He believed in journalism. He believed a well-told news story could change the world and, as Will said at his funeral in this The Newsroom quote…
His religion was decency and he spent a lifetime fighting its enemies.

Will
Now that's a religion worth following.
Did the fight become too much or was his heart attack inevitable? No one will ever truly know but Sloan's and Don's guilt and need to deflect blame was both comical and desperately sad. I appreciated that Will didn't let them off the hook the way they'd expected. 
The flashback to Charlie wooing Mac to come to ACN was interesting. She too, was in a dark place back then having been stabbed in Afghanistan, losing her job and spending her mornings drinking in a bowling alley.  But despite the fact that Will had never returned one of Mac's phone calls or emails, Charlie knew that she was the one person he'd work his ass off to impress. Mac was probably the only person that could get him to be a better man, whether she believed it or not. 
It was great to see Jane Fonda as Leona Lansing one last time and she knew just how to get to Pruitt. She showed him the problem that was going to take him down and then handed him the solution. Hire MacKenzie McHale to take over Charlie's position as President of ACN. 
Mac and Will went from barely speaking in the series premiere to partners at work, in marriage and now as soon-to-be parents, and Will's exuberance over the news that he was going to be a father was endearing. It was perfect that he had Charlie's words in his head.
Being a father. It lives up to the hype.

Charlie
The musical number in the garage at the funeral could have been cheesy, but I actually enjoyed it a lot more than I thought I would. I'm tempted to check out if I can get this performance on iTunes.
Elsewhere, Jim recommended Maggie for a field producers job in Washington D.C. and these two are really going to have to learn how to communicate with one another if they're going to make it as a couple. I was so proud of Maggie when she decided to go for the D.C. job and not stay with News Night with Jim. She's come so far but she needs to get out on her own and see what she can do without being in her boyfriend's shadow. 
But long distance relationships are never easy and for once, Maggie was asking the right questions and getting an answer she didn't expect…
Maggie: Have you had a lot of long distance relationships?
Jim: Yes.
Maggie: Have any of them worked?
Jim: No.
Maggie: Then why is this different?
Jim: I wasn't in love with them.
The Newsroom was a show that grew on me over time. I had a love / hate relationship with The Newsroom season 1 as I both liked and despised the characters almost simultaneously.  It's tendency towards 20/20 hindsight could be both enlightening and infuriating. 
The Genoa story in The Newsroom season 2 and the progression of Will and Mac's relationship, Maggie's growth, and Don and Sloan's filtration all reeled me in and I couldn't wait for The Newsroom Season 3 to be here. As disappointed as I was that it was a shortened season, I was thrilled that the show was able to wrap up the story in a way which was satisfying. 
In the end, everyone at ACN has grown up and found their focus and much of that was due to Charlie Skinner's influence. He and The Newsroom will surely be missed. 
C. Orlando is a TV Fanatic Staff Writer. Follow her on Twitter.