Hooray! The Taste is back for its third season, and everything about it is fantastic. Well, almost everything.
The Taste Season 3 Episode 1 stayed true to its original idea of cooks being judged solely on the taste of their food.
It also reminded us why these sorts of cooking competition shows are so fun to watch. The judges this season are Anthony Bourdain, Nigella Lawson, Ludo Lefebvre, and Marcus Samuelsson. Of course, these four are competitive, and there's a little smack talk, but it's not enough to get in the way of the actual competition.
But what really draws the audience in is the fact that the competitors range from trained, professional chefs to home cooks who learned everything they know about food from their families. And since the judges aren't concerned with credentials, it gives the home cooks a real, fighting chance. Every time I watch this show, I think about what sort of dish I would make to impress the judges, or maybe what I would do differently from the competitors. It's all a way to make the audience feel involved, and it works.
Cooking shows like this are all about voyeurism, from watching a trained chef struggle to get their food done in time, to watching them create a beautiful plate of food, to watching the Nigella Lawson cook macaroni and cheese. Even the credits are flashy and sexy.
Okay, but how about the contestants? There were some amazing looking dishes, that's for sure. Daniel's crab cakes with black garlic in the sauce and Mia's stuffed chicken breasts were both dishes I would have loved to try.
Side note: never, ever watch this show hungry!
Many of the contestants had interesting stories, and most of them were fairly likeable. But Eric made a pretty tragic mistake in shunning the other mentors in favor of Anthony Bourdain when all four chose him for their teams. I mean, sure. Who wouldn't want to work with Anthony Bourdain? But don't piss the others off!
And I'm sorry, but having a contestant from The Bachelor compete on this show cheapened the whole thing for me a bit. Maybe Renee is a great cook, but this makes her look more like a serial reality show contestant than a worthwhile competitor. Of course, there was another reality competitor as well: Joe from Big Brother.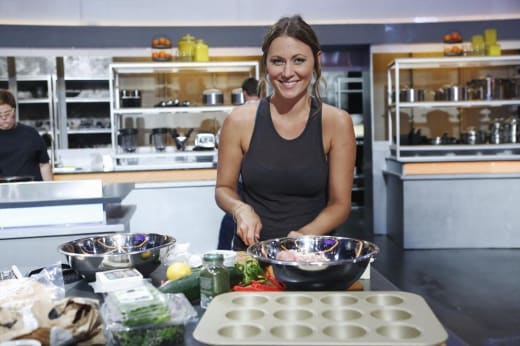 Once the teams were chosen, everyone moved immediately into a team challenge. The theme? Childhood. Each mentor assigned their kitchen a type of dish to create, demonstrating their own version first. Then, once everyone was finished creating their own version, the mentor chose which dish would represent their team. Guest judge and renowned chef, Stephanie Izard tasted each of these blind, and decided which was best and which was worst.
The team challenge was a chance to see what each mentor's styles of teaching were like. While Anthony offered calm suggestions, Ludo stomped and yelled and threw food in the trash. This was also a chance to learn some background on each of the judges, as they shared personal stories to go along with the theme. Marcus talked about being adopted, and Nigella told her team how she used to make macaroni and cheese for her children using breast milk. Seriously – I love Nigella.
Unfortunately, it was the macaroni and cheese that was chosen as worst bite from Stephanie Izard, which meant that Nigella was forced to send one of her cooks home.
All of the team tried throwing P.K. under the bus because she "wasn't a team player," but in the end, Nigella decided to send home The Bachelor's Renee.
Thank goodness. Because as much as she may have deserved to be there, having a contestant from The Bachelor on The Taste wasn't going to work for me at all.
What about you, The Taste Fanatics? Do you think that was the right elimination? And an even bigger question: if you were on the show, which mentor would you rather work with? Leave your thoughts in the comments below!
Here are the teams as they currently stand:
Anthony's Kitchen: Vanessa, Eric, Tom, Tarik
Marcus's Kitchen: Tristen, Jake, Gabe, Joe
Nigella's Kitchen: Mia, Lindsey, P.K., Renee
Ludo's Kitchen: Jen, Natasha, Ben, Dan
Oh, and don't forget, you can always watch The Taste online via TV Fanatic!
Ashley Bissette Sumerel was a staff writer for TV Fanatic. She retired in September 2017. Follow her on Twitter and on Google+.