White Collar Series Finale: Matt Bomer, Tim DeKay Preview the Final Con
Jim Halterman at .
Is this really the final con?
As we left off on White Collar Season 6 Episode 5 last week, Neal brought Peter into the Pink Panthers to try to bring them down once and for all.
Will the guys succeed or could Thursday's White Collar Season 6 Episode 6 truly be the end for one of our longtime favorite TV duos?
Matt Bomer, who was just nominated for a Golden Globe for his work in the HBO film The Normal Heart, and Tim DeKay weren't giving up any spoilers when they talked to the press earlier this week but they did talk about their emotions when they were shooting their last scenes and what's next for the in-demand actors.
Here are the high points from their chat: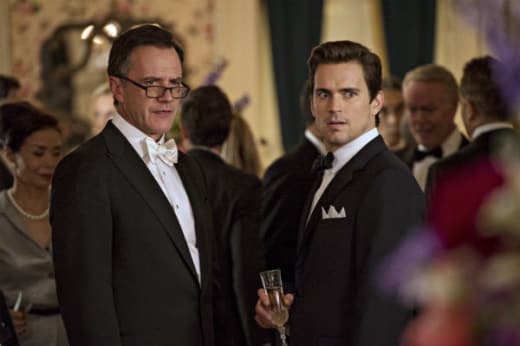 The Final Second: Don't expect the final episode to go out with a whimper but, instead DeKay said quite the opposite. "Do not walk away until the final second of the episode," he warned. "We've got some great twists and turns, some wonderful moments between everybody and I think it fits on all the tones that have made White Collar what it is. There is a great familial sense to this episode, certainly the caper or the heist I should say in this instance is wonderful. And many questions that people have had throughout the seasons about White Collar will be answered."
Chemistry: If there's one undeniable reason for the success of the show, it's the chemistry between Bomer and Dekay and the actors are well aware of it and complimented each other. However, they know it wasn't all because of them that White Collar was such a success. "I think honestly the key to Neal and Peter certainly it started with the writing," DeKay said. "Jeff Eastin wrote these great guys and I'll say that Matt and I work extremely well together and we respect each other and we listen to each other [and] working together comes across as Peter and Neal having a good time working together as well."
Bomer added that he's glad that Eastin was always willing to listen to the actors about their characters and storylines. "We were lucky enough to have Jeff who was willing to listen to us and we were able to listen to him and just bounce ideas off of each other and get to riff on those things," he said. "And then I think we just had a blast doing it together."
Emotions Running High: We may see some big emotions play out in the final episode but DeKay and Bomer shared how they felt while shooting their last scenes. Bomer said, "It was really emotional. I think most of us if not all of us were able to process a lot of that in the moment as opposed to just finding yourself driving down a street in LA five months later and bursting into tears. But it was great."
The actor, who recently finished shooting the Magic Mike sequel, added how grateful he was for the show that made him a household name. "It's so easy to focus on how much we'll miss everybody and I will but I just feel like we're all so lucky that we got to do this for six seasons and get to enjoy each other's company for that time and make a lot of relationships. Business relationship and friendships were created that will last a lifetime. So I think there's a lot more to be grateful for then there is to be sad about."
DeKay likened shooting the last scenes to being a senior in high school about to graduate. "It was senior week but you had a whole bunch of finals still," the actor explained. "You still had to do well in the classroom and those were the scenes and you wanted to do well."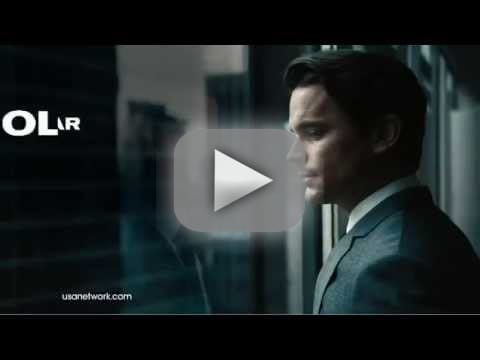 The Ending: DeKay and Bomer kept quiet on how exactly the series would come to end but they did talk about their feelings about the show leaves Neal and Peter. "I'm very satisfied with the ending of the series," DeKay said. "One can never be satisfied with the ending of a project that they loved but creatively since we had to end it I feel that we gave a great exciting twist and ending that will surprise I believe everyone."
Bomer wished there had been time to look into other arenas in the final season. "I was really satisfied in some ways and in some ways I would have been interested to explore other avenues as well. I mean, I think there [were] still directions to go but I think the way they wrapped it up was really well done in the sense that they didn't try to tie everything up into a nice bow. They really left some things open ended and left a lot up the viewer's imagination, which I always think is more potent than anything you could put down on a piece of paper."
What's Next?: It's no secret that DeKay and Bomer have been keeping busy since wrapping production on White Collar earlier this year but what are they looking forward to? Bomer, who recently appeared on American Horror Story: Freak Show, said, "There's so many things I want to do." He added, "I'd like to really make the Montgomery Cliff bio pic happen [and] I'd like to get a chance to wear two different hats in the business. And I also think it'd be really great to do an adaptation of a great novel."
DeKay, recently seen on Marvel's Agents Of S.H.I.E.L.D, said he's hoping to direct a holiday film in the near future but he'll literally be getting back on a horse soon. "There's a western that I will be shooting this spring where I play a dark character. And I look forward to playing somebody dark…as an actor you always look for something where the character is great or the story is great. And some of these projects I've got coming up they're both. So while I will miss playing Peter greatly I look forward to different kind of roles."
What will you miss most about White Collar? Make sure to leave comments after you've seen tonight's episode.
White Collar airs tonight at 9pm on USA. 
Jim Halterman is the West Coast Editor of TV Fanatic and the owner of JimHalterman.com. Follow him on Twitter.