White Collar Season 6 Episode 6 Review: Au Revoir
Chandel Charles at . Updated at .
He's free.
But, as White Collar Season 6 Episode 6  taught us, freedom came with a pretty steep price; one most fans would have, at least initially, done anything to avoid paying.
Alas, this was only a fraction of the story – and could it be the beginning of a new one?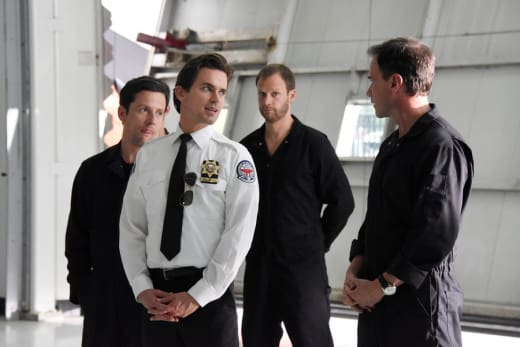 First, let's discuss how this whole thing with the Pink Panthers went down. It didn't surprise me in the least that the Pink Panthers were caught. In fact, I am in awe of how they pulled the thing together in order to get Neal into two disguises AND his famously well-fitting suit!
Did anyone catch that, throughout the whole process of this Pink Panther con, Neal was also figuring out solutions that would allow the people he loved to be set for life in his absence? He siphoned money from the con for Mozzie, and created a scenario about which Peter was completely in the dark, effectively protecting his career. Did I mention that Neal is finally free?
Keller may have convinced Neal it was possible the FBI would always keep him on a leash, but even THAT was made an impossibility with Neal's plan – he faked his own death!
And while it was beyond heartbreaking to watch Peter and Mozzie grieve as they did – and re-connect a year later – I could barely contain my joy (even through tears) at Peter figuring out Neal must still be alive.
I loved seeing Neal back at it in Paris. One wonders if there isn't fodder there for some continuation or return later on. I know I would love that!
One thing that came to my mind is the idea that maybe Neal has as second chance to grow up in the family he always wanted, even if it's not as himself! He does have a namesake, after all, and this little man will grow up with all those same important people around him.
Isn't this child also a lot like Neal in that they both have this chance to forge a new path? I would certainly like to think so! I wish we could see what Neal's new path is!
Can we talk about Keller's end for a second, too? What did it mean for Keller to die the way he did? Yes, he died at the hands of the very cops he was so desperate to avoid all his life, but he's also been presented as anti-Neal throughout the series. He is the ruthless guy that Neal just isn't. So is it possible that, with Keller's death, Neal was also freed of the part of him he desperately felt pulled between throughout the series?
All this philosophical analysis is deep! I'll give you some time to ponder it.
So, instead, let's a take a moment to run down at least a few of the ways this episode called back to some of the series best moments or inspirations:
We saw June one last time and she reminisced about her husband and the first time she and Neal met.
Neal brought Mozzie his book with the cards from when the two of them first met.
Mozzie brought baby Neal Mozart, his prized bear from childhood.
Neal dressing up as a pilot is a callback to the movie "Catch Me If You Can," that inspired the show.
That bottle Neal "left" for Peter reminded me of the bottle he had in the series premiere when Peter caught him.
I would like to thank Jeff Eastin and the White Collar writers for six amazing season, and the entire cast, including its guest stars, for sharing their hearts with us through this show. You will all be sincerely missed!
That was one emotional ride, Collars; and, unfortunately for us, our last with Neal and Peter in primetime. But you can always watch White Collar online!
In the meantime, what do you think the chances are that Neal and Peter could return some time in the future?
C. Charles is a TV Fanatic Staff Writer. Follow her on Twitter.