On Backstrom Season 1 Episode 1 we met Everett Backstrom, an overweight, offensive detective who struggles with his self-destructive tendencies and is just one member of an eccentric team of criminologists.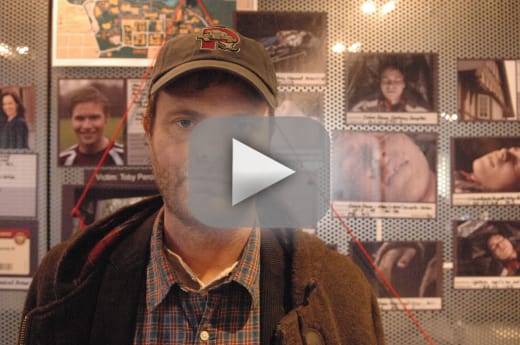 When I first started to watch, I assumed Backstrom was going to be about an insert description here jack-of-all trades cop who still manages to be the smartest guy in the room and solve all the cases. In fact, the way it ended didn't change my opinion, but I did find the show to be different than expected. 
Your bloodshot eyes tell me that you have not been drinking.

Doctor
That quote said pretty much everything about the way Backstrom leads his life, and his doctor has every right be concerned after all of the things we saw Backstrom partake of tonight. 
However, instead of rambling on over the ways in which he could change, which we assume he has already done, the doctor prescribes that Backstrom make a friend. 
This prescription was an interesting premise and I watched how he interacted with the other characters more closely. Does he have friends? 
Gregory is clearly the front runner. I don't understand why he didn't just tell the doctor that this was his friend, even if he did't think it was true.  Gregory is supposedly his decorator and connection to the underworld, but when Gregory told the doctor just what Backstrom needed he proved he certainly knows him better than anyone else. What the two seem to have in common is their superior perception skills, and were those hints that Gregory is related to him? Possibly his son?
Another interesting bit adding to Backstrom's character was the mention of his father, who is known for having been an excellent cop. Backstrom had a very different story to tell that involved abuse and I am looking forward filling in these gaps. 
"Maybe I am just an optimistic millennial and you are a pessimistic gen-x."

Gravely
Backstrom's personality was emphasized the most when he and Gravely shared scenes together. Gravely is of the younger, millennial generation who went to college and learned everything she knows in a book. Meanwhile, Backstrom bases all of his theories and understanding of the world off of what he knows about people. It seems like one of those relationships where both parties could learn from each other, but I predict that Gravely will start to think more like Backstrom. 
" I don't see the worst in everyone, I see the everyone in everyone."

Backstrom
There was pessimistic, insightful truth to this statement. 
As for the introductory case of the week, I really appreciated that the story relied more on psychology and interaction between characters to solve cases, rather than farfetched evidence and scenes in the lab. Most of the leads the team followed were gained through questioning or just by old-fashioned cross checking, such as the way Nadia figured out a connection to one of the player's brothers thanks to campus security. The one exception was how exactly they found fingerprints on a gun that had fallen in the river. It was a strange thing to leave hanging, but it was the premiere.
After the first episode, I still think this is an insert description here character who happens to be the best cop in the room, but I like the idea that the case can be solved by knowing and talking to the people. 
What did you think of this pilot? What do you think of the relationship between Gravely and Backstrom? Did you have a favorite character? Did you have a favorite line or scene? 
Remember, you can watch Backstrom online via TV Fanatic!