Elementary Creator Talks Kitty's Exit, "Dangerous Times" Ahead
Matt Richenthal at .
Viewers bid farewell to Kitty Winter on Elementary Season 3 Episode 12, "The One That Got Away."
Alhough Ophelia Lovibond's character didn't murder her tormentor Del Gruner after taking him hostage, she did leave him badly scarred.
With Captain Gregson making it clear that he'd track down the culprit of the crime - even if it was someone he knew - Kitty was left with no choice but to flee New York City.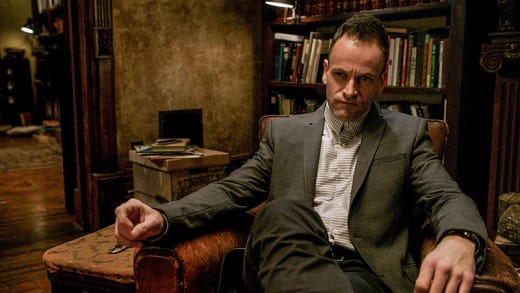 In a statement released shortly after the intriguing installment aired, Executive Producer/Creator Robert Doherty shed some light on Sherlock and Watson's status after Kitty's departure, teasing fans with the following quote:
We're going to miss Kitty as much as Sherlock and Joan will. But with her departure, it's time to turn the page to the next chapter for Sherlock and Joan. Even as their working lives drift back to a familiar arrangement, they find that they've changed.  
The partnership has to evolve... and it has to evolve quickly because old foes and new cases will be coming at them before they're ready. Periods of transition are tricky, dangerous times.
What might this mean? To which old foes might Doherty be referring?
Elementary Season 3 Episode 13 airs on Thursday, February 5 at 10/9c. We'll be tuning in to find out.
Matt Richenthal is the Editor in Chief of TV Fanatic. Follow him on Twitter and on Google+.