Parenthood Season 6 Episode 11 Review: Let's Go Home

Carissa Pavlica at . Updated at .
It finally feels like the end is near.
Parenthood Season 6 Episode 11 felt a bit like the wrapping had already been taken off of the package. The happy ending has started being dished out and there's not much left to say.
Who would have imagined that would happen?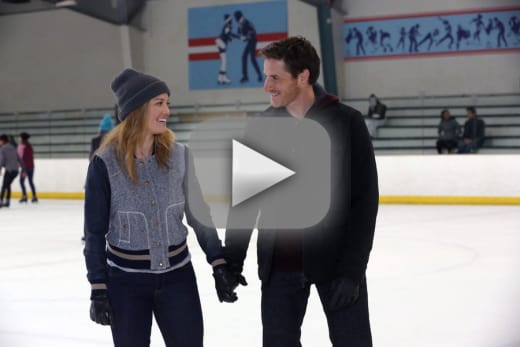 It's not easy to watch a show like Parenthood after years of struggle and to be slammed with happy endings for everyone. It feels like the ultimate chick flick. It's not all about me, I know that. It's one of the things I try to impart upon up and coming critical writers and yet here I am, making it all about me. 
Don't write a second recap when we already have one in the system and don't make it all about you. Deep breath. This is truly difficult. There is nothing wrong with the path Parenthood seems to be taking as its swan song. There are two hours left so there is really little room for imagination at this point. One of them will deal with Amber's delivery and the other will, most likely, wrap things up. Or, it go The Sopranos' route and leave us with a "life goes on" approach, but if that were the case we wouldn't be staring at happy endings.
What's so difficult to process about the direction we're heading? I have some examples.
Let's start with Sarah. She has been nearly impossible to please. From what we can tell, this has been a life long issue. Perfection can be standing on her doorstep and she walks away. Hank is clearly imperfection, but a simple two question quizlet from Camille and light shines upon her: do you love him and does he make you happy. Oh if only those were the only criteria required to make a relationship work and more importantly, last. 
Hank has grown a lot since his family returned to town and he's made a great effort to communicate. His interactions with Drew and Amber have been heartwarming and real. It's not him I'm worried about. It's Sarah. At least I won't have to watch her break his heart.
Up next are Julia and Joel. Thankfully, they realized jumping into the sack each time they saw each other wasn't exactly the road to recovery they needed. Julia was even grown up enough to take it a step further.
Joel: When have you not thought clearly?
Julia: Two years ago. I was not thinking clearly. I was pretty much unraveling. You left.
Joel: K. That's not going to happen again.
Julia: Good. But... I can't tell you that it won't happen again, that I'll be... I don't know, I know that I was hard to live with. I realize that it was rough.
Joel: Honey, I'll tell you this as many times as you need me to. I will never leave you again. I will never leave you.
That conversation and Joel's desire to hear her voice while she was a the rink? Not enough for them to go public with the kids. They had one conversation about over two years worth of hell in their relationship and thrust hope that was dangling on a very tentative string in front of their emotionally challenged kids. In that moment, they committed, but it didn't feel like they were stable enough to do it (or, in Braverman speak, "it just doesn't feel like, I don't know, like this is the right thing, for us, right now).
Separation from been very good for Victor who has grown, what, two feet? He should join the basketball team! When he skated up behind Sydney, I was shocked. It's so nice to see a male child actor who isn't going to play 10 until his mid 30s.
Finally, we have Crosby and Adam and The Luncheonette. It's really surprising how Kristina was so unwilling to support Adam and his desire to support Crosby. She was literally talking him out of saving his brother in the same way he saved him when they opened the place. Adam wants out of the business because he's afraid. He knows that. He wants less stress. Yet he allowed his wife to open a school and supported her fully. That's highly stressful. They aren't as supportive as Crosby and Jasmine are. Crosby and Jasmine are the new Adam and Kristina. When did that happen?
Keeping the business open is another happy ending, but I'm surprised nobody thought about my idea: get the insurance money, buy out a good share of Adam, leave him as an investor, give him a chunk of money, Crosby could have hired someone and Amber could have remained on with the opportunity to partner later. Weird.
In other news, Zeek is still doing poorly, but unless he dies while Amber is in labor, he's not dying before the show ends. That ship has sailed. It's a cheap stunt to do it this late in the game, so it best not happen unless it happens in the space between the end of next Thursday's end credits and the beginning of the finale and there is an appropriate time jump. I'm not arguing about the validity of that proposal.
I loved Zeek's and Camille's visit to the old house and his decision to leave his baseball in the rafters for the new family's kids to find and the chat Camille and Sarah had over the photos Max developed. Those were some touching moments and we got a final look at new life where it all began.
All in all, I might have liked a Sopranos ending better. Life isn't all happy endings and smiles. Maybe I'm in for a surprise after all. What are you thoughts on what to expect of the final two?
Until then, you can watch Parenthood online via TV Fanatic. See you next Thursday!
Carissa Pavlica is the managing editor and a staff writer and critic for TV Fanatic. She's a member of the Critic's Choice Association, enjoys mentoring writers, conversing with cats, and passionately discussing the nuances of television and film with anyone who will listen. Follow her on Twitter and email her here at TV Fanatic.