Resurrection Season 2 Episode 10 Review: Prophecy
Paul Dailly at . Updated at .
Resurrection finally returned with a new episode tonight - and it left a lot to be desired.
On Resurrection Season 2 Episode 10 the residents of Arcadia searched for Jacob after a storm plunged the town into darkness.
The hour started with so much promise with everyone looking for Jacob in the storm, but the fast pace lasted until the second ad break. The whole thing would have worked better if the storm took up the bulk of it.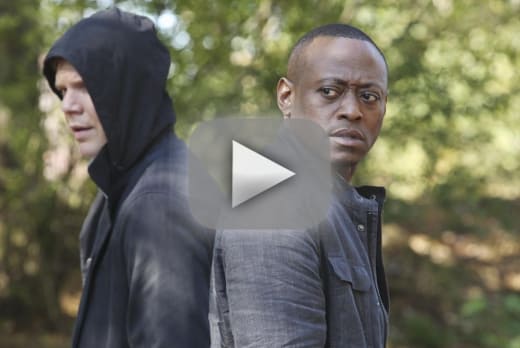 Margaret is gone – for now. The woman has a sharp tongue and isn't as smart as we've been led to believe. She can bring anyone down a few pegs with her words. It was refreshing to see a vulnerable side of the character for a change. It wouldn't have been a shock if she went crazy to keep Jacob with her, but it was surprising how quickly she accepted defeat.
No matter what she does, her sons will always forgive her. The two of them try to look for the good in her and tonight, it actually seemed like there could be good.
Poor Jacob. The young boy must be very confused about what is going on. He quickly befriended his grandma while everyone else was against her. These two know more than we've witnessed thus far; I can all but guarantee it!
It'll be interesting to see how Jacob will continue on without Margaret. I'm guessing he will rebel against everything his parents say.
Jacob: I miss my parents.
Margaret: I know.
Jacob: Maybe i'll see them again. After they die.
Margaret: Maybe.
Is anyone else thinking Preacher James could be the new big bad? Something was clearly off with him when he was attacked by a bolt of lightning. That must have been painful! The burn from the strike left the mark of a tree. More alarmingly, it looked like the same treewhere he was struck. Could he be out for revenge against Bellamy? Probably. The guy originally died saving him after all. It looks like he will attempt to turn Jenny against her brother.
Speaking of Jenny... she got out of the facility! In one of the more forced developments of the hour, Bellamy called in a "favor" and managed to get his sister delivered to him. Sure, it's going to be awkward with Maggie; she now has an extra person under her roof. I doubt she thought Bellamy would ever come with baggage in the form of a teenage daughter.
Lucille was a delight tonight. All she wanted to do was get her son back and rid the house of anything that would remind the family of Margaret. The flashbacks to the first time Jacob went missing were really well done. It was a little weird they got a different actress to play Lucille in the flashbacks, as previous episodes have used the same actress.
It doesn't matter where Margaret is, the damage has been done.

Lucille
"Prophecy" was an okay outing for the show. It felt a bit like a season premiere; as if it was setting up new storylines, which isn't the best thing to do when the show is most likely coming to an end in the next few weeks. I don't think we will get much closure at this rate. Enjoy it while you can!
Other bits from the episode:
We got to see Elaine for like 30 seconds. She should win an award for most underutilized character!
The storm effects were quite fake looking.
Maggie has a cure for Bellamy!
Considering how the government had the returned locked down, it felt a little contrived Jenny got to walk free.
Remember you can catch up with the drama when you watch watch Resurrection online right here on TV Fanatic!
What did you think of the episode, was it another dud or is there some hope for the show? Will we see Margaret again? Sound off below!
Paul Dailly is the Associate Editor for TV Fanatic. Follow him on X.