The McCarthys Season 1 Episode 11 Review: The Ref

Krystal Sondel at . Updated at .
Everyone hates the referee when you are a sports fan. On The McCarthys Season 1 Episode 11, we heard every referee joke out there, and it worked. 
As a big sports fan, I could totally relate. I often wonder if it's just my sports teams (Let's Go Buffalo!) who get the short end of the stick when it comes to calls on the field. It just never seems to go our way, and it's pretty easy to blame the referee.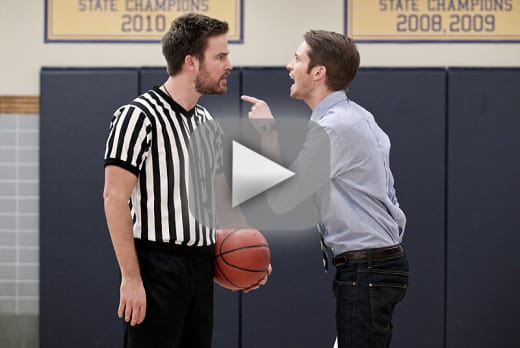 When the call doesn't go your way, the referee is the worst, but then a "bad" call goes against the other team and you are all about it. It has to be a tough job. Ronny said it best:
I know we hate refs in general, you know because they try to make the game fair and all, but why do we hate this one?

Ronny
It was really no surprise to me when the McCarthy clan was adamantly against Ronny dating Doug, the referee. How dare he! The back and forth banter was great, and felt like something my family would say. 
I had hopes that this "forbidden love" would be one that sticks, but Doug's constant discussion about his boats fell flat quickly for Ronny. I'm hoping we can find an actual love interest for Ronny. At this point, I'd take a stable relationship for any of the McCarthy kids.
Take Gerard. I knew Gerard wasn't cheating on Katrina, but any fan of Gerard had to be hoping he really was (okay I'm not condoning cheating, it's horrible, but Katrina might be even more horrible). My takeaway from their wedding drama is a pretty important one: If you need to get a part-time job to pay for your wedding, you should probably rethink your wedding priorities. Don't get me wrong, weddings cost a lot of money for a really basic one (I'm in the middle of planning mine right now) and it's expensive. Just don't go crazy, and definitely don't put yourself in debt planning. I'm all about sparkly tiaras, though. 
I got a kick out of the ribbing on Jackie for her red flannel shirt, although I think I have the same one. I grew up with two brothers so it's fun to watch their sibling interactions. My only gripe continues to be the fact that Jackie still doesn't look pregnant. Time keeps passing and I wonder if we are going to see her birth this baby before the season is over. 
Keep the fun coming McCarthy clan. Tonight continued to prove why the McCarthys deserve a spot on Thursday nights next season. 
Where do you fall on the referee debate? Do they get a bad rap, or are they just the worst?
Don't forget you can watch The McCarthys online and master all the referee jokes out there. 
With just a few episodes left in its freshman season, what are your hopes for The McCarthys? Let me know your thoughts in the comments below!
Krystal Sondel is a staff writer for TV Fanatic. Follow her on Twitter.