The Real Housewives of Beverly Hills Season 5 Episode 9 Review: Live and Learn

Christine Orlando at . Updated at .
It was college week on The Real Housewives of Beverly Hills Season 5 Episode 9 as three of the Housewives sent kids off to school. We recap the all the tears in our +/- review.
Is it just me or does this feel like the fifth episode where Kyle and Yolanda lamented about sending their daughters off to school. I know it's a big step and an emotional time but this isn't a story line that can carry half a season. Minus 25.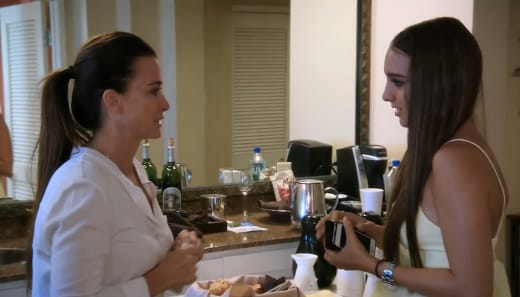 Despite the tears, it sounds like a sweet deal...for the kids. Kyle and Mauricio will be giving Alexia $1,800 to $2,000 a month for food and essentials and that's after they pay for her tuition and rent.  At that rate she still won't have to learn how to do her own laundry. She can hire someone. 
However I do love that Kyle admit's she'll be following the Tuscon Police on Twitter. Plus 18 because I think I'd probably do the same thing. 
Loved Mauricio's comments about the President of the University being a woman and his being all about empowering women. Plus 27. With that many daughters to raise, he'd better be. 
Across the country in NYC, Yolanda was getting Bella set up at school. I guess the 17-year-old with the DUI on her record is lucky to be living in one of the few cities in the country where a car is completely unnecessary. 
Yolanda not only bought her daughter an amazing apartment in Manhattan but she also made sure everything was moved in and it was decorated to her standards. Yolanda says she grew up always having to do for herself but her daughter obviously don't have that issue. They have momma Yolanda there to take care of things. Minus 23.
No wonder Bella wrote a heartfelt letter to her mother that brought them to tears.
In comparison, Eileen Davidson's hug and wave at the door to step-son was a welcomed relief to all of the overwhelming emotion going on elsewhere. Plus 30.
Leaving the college scene and heading over to Brandi's, Ms. Glanville invited some friends over, including Kim Richards to watch her ex-husband's new reality TV show. Weird? You bet. Minus 37. 
Heaven forbid Brandi and Eddie figure out how to move on. Now Eddie says he overpaid Brandi $114,000 in support payments. Even worse was that Brandi's attorney told her that it would cost more to fight it than to pay it! Minus 43.
Finally we get to Lisa Rinna who earned the nickname Crazy Lips as she headed to the set of Penn Jilette's movie where she would co-star with hubby Harry Hamlin. As Lisa said in this The Real Housewives of Beverly Hills quote...
I will do anything for Penn Jillette. Probably not porn, but anything else.

Lisa Rinna
So obviously they're close, just not porn kind of close. 
Maybe next week we'll see more of her jewelry fundraiser for women's cancers...less of tearful empty nesters...and off course more of drunken Brandi's brawls. 
Episode total = -53! Season total = -170!
If you missed any of the tears, you can watch The Real Housewives of Beverly Hills online here at TV Fanatic. 
C. Orlando is a TV Fanatic Staff Writer. Follow her on Twitter.