Happy New Year! On The Taste Season 3 Episode 4 the remaining cooks created decadent dishes based on a "Happy New Year" theme. They included bone marrow, caviar, lobster, and a few ingredients I honestly had to Google.
But for me, that's one of the reasons I love watching this show. Not that I can ever imagine I'll cook with beef heart, but hey, you never know!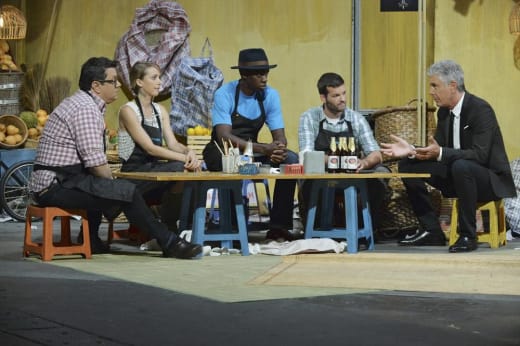 My favorite thing about this episode was the choice of guest judge and mentor. I love Michael Symon, and he was clearly a good mentor for the winning team. He offered up some practical tips for the cooks, but he was also encouraging and happy to be there. He's also more of a celebrity chef than some of the other guest mentors we've seen, which makes him more recognizable.
I thoroughly enjoy watching Jen. Anthony likened her to Freddy Krueger this week because she always manages to come back. She's a fighter, that's for sure. She also shows that she's willing to learn, and that is apparently what helped her do so well this week -- taking tips she's learned from Ludo and applying them to what she already knows.
The fact that she is also a home cook is what makes this show so special. I've said it before, but part of what makes this show fun to watch is that the audience feels like they could be a part of it too.
Now that there are fewer cooks in the kitchen (pun intended) its a little easier to decide who I want to root for and who I want to see go home. There's more time to watch each person prepare their food, see how they interact with each other, and generally feel as though we can get to know them.
Still, there are some we see more often than others. Vanessa has a good strategy of trying to impress Anthony Bourdain, while Tristen found himself cursing a little more than usual this week. Dan is especially positive, and Gabe was so joyful he found himself giggling as he cooked.
I do wish we could spend more time with the cooks, though. Especially with some of the dishes they make. I'd love to see more of the detail and technique.
I was heartbroken for Nigella when her final cook was sent home. Her remark that she is "used to it," made matters even worse. At least her cooks were nice to her this season (well, for the most part). P.K. had a positive attitude and shared her gratitude before she left.
If there was one thing I could say to Nigella, it would be thank you from the bottom of my heart for your belief, for your trust, for your encouragement, and for standing up for me. It has had a profound impact on me as a person.

P.K.
The two cooks in the taste off this week were Natasha and Tarik. It was especially to sad to see Natasha in the bottom since she proved herself to be such a team player this week.
Unfortunately, even after cooking with an injury and having a medic bandage her up while she continued to cook, Natasha was sent home this week.
Here are the teams as they currently stand:
Anthony's Kitchen: Vanessa, Eric, Tom, Tarik
Marcus's Kitchen: Tristen, Gabe, Joe, Jake
Nigella's Kitchen: P.K., Mia, Renee, Lindsey
Ludo's Kitchen: Jen, Ben, Dan, Natasha
What about you, The Taste Fanatics? Who do you want to win this season and why?
Need to catch up on past episodes? Don't forget that you can always watch The Taste online via TV Fanatic!
Ashley Bissette Sumerel was a staff writer for TV Fanatic. She retired in September 2017. Follow her on Twitter and on Google+.