Viewers may still need to wait until January 22 for The Vampire Diaries Season 6 to resume, but cast and crew members offered up some juicy nuggets yesterday at the Television Critics Association press tour panel in Pasadena.
For starters, we'll begin at the end.
"[Co-creator] Kevin [Williamson] and I came up with and cried over our perfect ending... and really stuck to that for many, many years," Julie Plec said at the drama's panel, soon after The CW announced the TVD renewal.
"And now the show will go on longer than we ever dreamed of. So it's evolved, but it's still rooted in that same idea. We're still on that same path."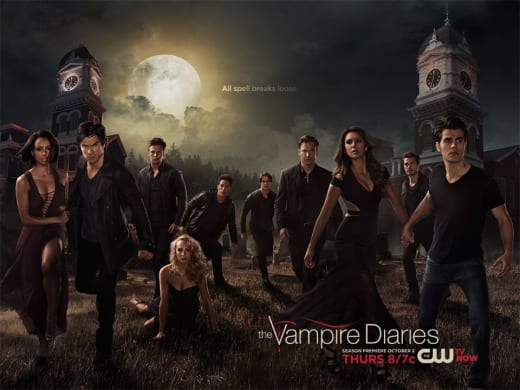 Damon and Elena, meanwhile, are on a path back to each other. Slowly. Romantically. Teased Plec:
"We have Damon and Elena finally working their way toward each other, and trying to reach a happy state of a functioning relationship, which is the one thing we never got to play with them - seeing them be comfortable and happy with each other without dealing with a lot of internal conflict."
And Ian Somerhalder sounds a hopeful tune when speaking of his character's love life.
"They've been through a lot. Love trumps all. So when you see, you want it to win," the actor told reporters.
But all will not just be sweet kisses and longing stares.
"Our main throughline this season has been learning more about the Gemini Coven," said producer Caroline Dries teased. "And Kai has now absorbed all the magic in Mystic Falls, and he's super powerful, and he has one thing in mind: I want to merge with my twin sister, and become the leader of the Gemini Coven.
"And so we'll watch that story culminate with a lot of drama and death."
And also with the exit of Steven R. McQueen: Plec has confirmed that he is leaving TVD as a series regular this spring.
The Vampire Diaries Season 6 Episode 11 airs on Thursday, January 22 at 8/7c on The CW.
Matt Richenthal is the Editor in Chief of TV Fanatic. Follow him on Twitter and on Google+.