Archer Q&A: Aisha Tyler on Lana's Parents, Workaholic Tendencies & More

Orrin Konheim at . Updated at .
This past week, Archer's Aisha Tyler got on the phone with a pool of reporters to dish about all things Archer and the many other projects she's working on.
In addition to this beloved FX sitcom, Tyler also is a panelist on The Talk and the host of Who's Line is it Anyway (CW's highest rated show in three years), so naturally one of the first things asked was how she sleeps at night with three shows on the air.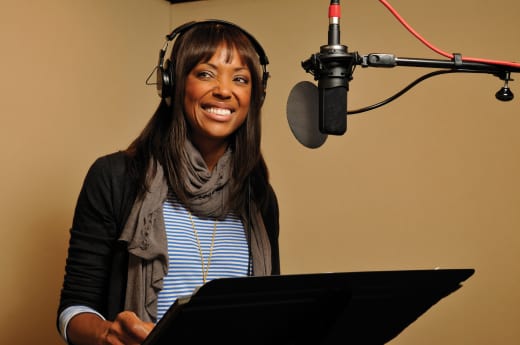 Aisha answered that in the past 18 months, she's discovered that she's "a clinical workaholic" which most of us already knew.
"I'm really only happy when I'm punishingly busy and it's less about me being kind of work slutty and saying yes to everything and just needing to be constantly kind of mentally occupied," she said. "I love being engaged and I feel like the harder I push myself the better work I do. So, the way I manage my time is that I'm an obsessive list maker and I get a lot of satisfaction in crossing things off of my list."
Naturally, it follows that being the replacement for Jon Stewart on The Daily Show is logistically not in the cards for her, despite being a top candidate from a blogger who asked her about her Daily Show prospects. 
"At this point in my life I don't even have time to pee," she joked. "I literally jut save up all my pee and go on Saturday afternoons which is, by the way, incredibly satisfying."
It has often pointed out that Lana is the sanest character in the room, which can't be very fun to play. Tyler agreed with the assessment that Lana doesn't have as much excitement as the other characters, but she did promise that Lana is "about to enter a world of reckless pain for in a few episodes, so I think that will be very fun.
"I did kind of beg for this storyline, so I'm really excited to see it coming to fruition.
In particular, Aisha is excited about Thursday's installment (full disclosure: I've seen this episode in advance and agree that it is worth getting excited about) in which we get to meet her parents.
For her part, Aisha didn't think she had the hard part in Archer Season 6 Episode 8. "I just showed up, but we got some pretty amazing actors to play my parents," referring to Keith David and CCH Pounder.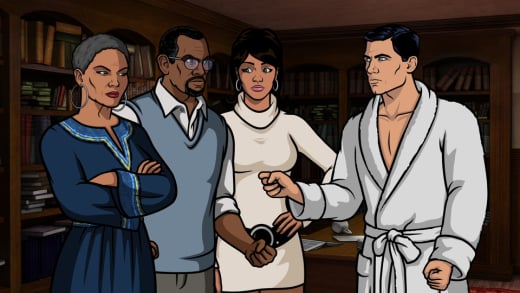 As for a question about whether Lana is "the focused one" among "a group full of eccentrics," Aisha has heard that comparison before answering:
"Yes, she is kind of the straight man in a lot of ways, but she has to be somewhat nuts to have dated Archer and then also to have absconded with his sperm and made a baby with his genetic material. So, she's not entirely sewn tightly."
More so, Aisha sees Lana as someone who's extremely competent in her professional life, but somewhat of a mess in her personal life. 
She also felt that it wasn't the birth of a baby that softened Lana but rather the work done by Adam Reed (the series' sole writer) in Archer Season 4 and that happened because the first few seasons of Archer were more about, "dropping 22 minutes of bombs."
"I think Adam [Reed] started to write more emotional material for Lana." She wasn't always pissed at Archer. And because she wasn't always angry at him or angry at the situation, I just had more to play with and more to do. What's been nice is as the relationships on the show have evolved and they've deepened and they've become more complex, we have more to do."
On her method, Aisha said, "Again, even though it's a comedy and sometimes we're working at peak intensity, I always try to really work on Lana's interior life and how she truly feels about her job, how she truly feels about her co-workers and how she really feels about Archer." 
Archer fans will also be happy to know that the chemistry between Archer and her cohorts is pretty real behind the scenes as well although it took some time for that to happen. All the cast members record separately as they are coached over the phone by people at Floyd County Studios (the Atlanta-based company that produces Archer).
The cast first met at a Television Critics Association press event after the first season, but according to Aisha, it wasn't until a press event at a comedy festival in Brooklyn during the second season that they all started to hang out together.
Aisha recalls one year they all got into a prolonged argument on a comic-con panel: "I don't know what it was about and it was just like a totally fake argument and I think we really alarmed the woman who was interviewing us."
As many fans already know, the cast of Archer often does live readings which Aisha referred to as a "bourbon-soaked love fest."
On the other actors, she says "They're pretty incredible people. They're all pretty superlative people and as funny as their characters on the show only without all of the alcoholism and the nudity."
Interestingly enough, Aisha Tyler watches the final product of each episode at home on the night it airs just like the rest of us. 
Make sure you watch with her tonight and come on back for a full review of Archer Season 6 Episode 8, "The Kanes." If you've fallen behind, you can watch Archer online to catch up.
Orrin Konheim was a staff writer for TV Fanatic. He retired in October 2020. Follow him on Twitter and his personal blog at Sophomore Critic.