Backstrom Season 1 Episode 5 Review: Bogeyman

Amanda Wolf at . Updated at .
It is a common storyline for cops to have a case that just won't stop haunting them. Whether it was about the evidence, the manner of death or about the way it was solved, something just isn't right about the case. 
Backstrom Season 1 Episode 5 introduced us to the case that haunts Backstrom.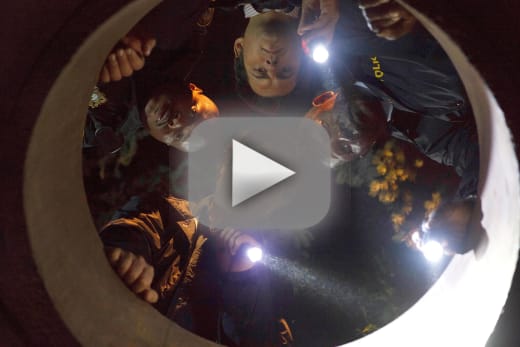 The case this week was actually extremely dark and scary, featuring an online predator who creates the idea of an alternative life for teens he is targeting. To them it is an attractive idea, and to him they were just easy targets. 
It was extremely unnerving that the thing that attracted him to the girls were their mismatched eyes. 
It was made all the more dark when the team discovered Lacy alongside Talia. I can only imagine what she has been through after nine years of living in those conditions. Not only that, but it turned out that she had a baby and must have been who he was referring to as his wife and daughter. 
The case was the darkest one we have seen yet, and was potent considering all of the stories that have come out about abducted children. 
Gravely had an interesting story. She called the FBI against the wishes of Backstrom and really pissed him off. After the FBI got involved Gravely was afraid that Backstrom might be right and started to help him on is off-the-books investigation. Gravely protects Backstrom by doing her job and following the law, and then helping him out on the side. Backstrom should be more appreciative of her, but of course he won't be. 
I didn't think for a second that Almond would actually quit the force, but did he have a point? Is it time for him to get a different job? Being a cop doesn't have to be forever and he has said that he is more than a 30-year veteran by now. 
To add to the darkness, we heard a harrowing story from Valentine's past that seriously topped Backstrom's bogeyman. it was a definitely eye-opening to learn something so personal about this character. It also spoke to the depth of the relationship between Backstrom and Valentine. 
Valentine: And then he tells you he loves you.
Backstrom: Its a lie.
Valentine: No, no, no. To him it is not. He means it
Despite the potential the case had, and that this was the best hour yet, I still can't say that I am hooked on Backstrom. I can't put my finger on exactly what it is, but the storylines just feel like they don't naturally play out. The character dialogue just seems off and isn't engaging. Finally, I can't get on board that solving the case always seems to be just a matter of when and on what nihilist notion Backstrom will crack the case with.
Even though I liked the depths that this case went to this week, it doesn't distract me that everything else about this show just seems off. 
What did you think of the case this week and the episode overall? Feel free to hit the comments below to discuss and agree or disagree with me!
Also, remember you can watch Backstrom online via TV Fanatic!