Rick Castle took on his first cheating spouse case in Castle Season 7 Episode 13 as old friend Eva showed up on his doorstep and begged him for his help. Too bad her story wasn't all that it seemed.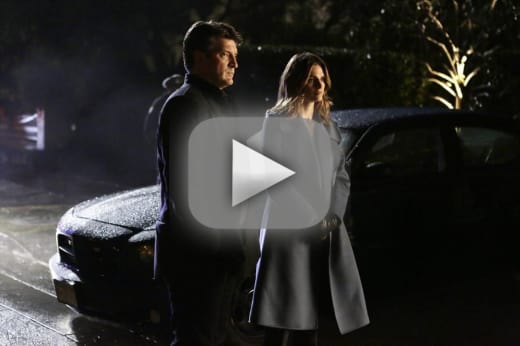 After getting the photos of Eva's cheating spouse, he witnessed her unconscious body being dragged into the back of a car. Unable to contact Beckett, Rick followed the assailant into the woods only to be knocked out himself. 
Rick was convinced that Eva's cheating spouse, Cole had murdered her but with no body to be found and no evidence to speak of, Beckett was the only one willing to take him seriously. The two worked together to try and crack Cole's alibi. Then Rick began to believe that Eva had set him up and staged her own death until her body was found floating in the Hudson river. 
When DNA evidence pointed to Cole, an arrest warrant was issued but Beckett wasn't able to bring him in as he was found hanging from his own balcony. With everyone else writing it off as a suicide, Castle was convinced it was murder but with both husband and wife dead, who was left to have committed the crime?
Remember, you can always watch Castle online here at TV Fanatic. 
NOTE: Castle Season 7 Episode 14 will be titled "Resurrection" and air on Monday, February 9.
C. Orlando is a TV Fanatic Staff Writer. Follow her on Twitter.