Grey's Anatomy Season 11 Episode 10 Review: The Bed's Too Big Without You

Stacy Glanzman at . Updated at .
Loneliness took hold of our favorite doctors on Grey's Anatomy Season 11 Episode 10, threatening never to let go. But did it? 
Grey's Anatomy is no stranger to themes; it's something the show does extremely well. Watching this episode alone in my apartment almost made me want to pick up my phone and call a friend.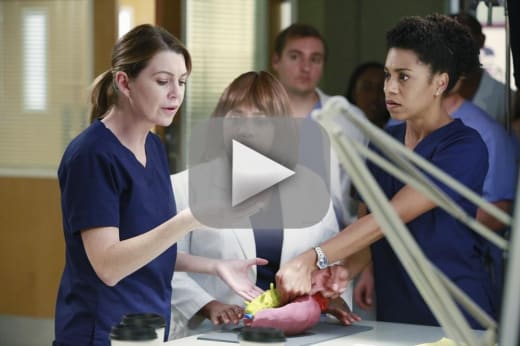 At first Meredith doesn't understand why she can't sleep without Derek. He's been gone before, but this time it's different. Amelia points out that she's never really been alone before because she always had either Derek or Cristina. Before Derek left they were fighting so much that she didn't have time to dwell on how much she missed Cristina.
Now that Derek is gone, the loneliness is hitting her like a ton of bricks.
Maggie feels that she's too good at being alone. It was really sad to find out that she was almost engaged once, but it didn't work out because she likes to sleep alone. I understand not being a fan of spooning or cuddling, but to actually get out of bed to sleep on an uncomfortable couch seemed a little extreme (though if he snored, I totally get it). Maybe she just needed a bigger bed. 
Anyone who follows the Grey's Anatomy Round Tables knows that I am not April's biggest fan, but even I have to admit that I felt for her when she pleaded with Jackson and her mom to shut up. My heart dropped when Jackson asked Arizona if they were waiting for the big guns and even though the scene cut away, we know the results came back as type 2. 
Amelia is excited and confident that she can tackle Dr. Herman's tumor, but the loneliness hits her when she realizes that no one can see her vision. Her bubble has burst until Stephanie has an epiphany. Stephanie really hasn't had much to do lately so hopefully pairing her with Amelia on the tumor will provide her with some meaningful screen time. 
I like Callie and Owen's blossoming friendship. I had an inkling that the tech rep was actually interested in Callie, not Owen, but I like that she's looking out for him. They're both in the same situation; they're not ready to date and they're able to bond over that. 
The case of the week was fascinating and super intense. It's not often we hear Meredith standing over an operating table and admitting she has no idea what to do. The theme of the week may have been loneliness, but that rapidly spreading tumor brought the hospital's greatest minds together in a concerted effort to save the patient. 
That 3D model was awesome! I loved that Bailey nicknamed it and the actual tumor Cyclops due to the patient's infatuation with The Odyssey. It was a cute story, but asking the doctors to swear on the book that they'd do their best was still really weird. 
The much needed comic relief came from Meredith's "pause" system when it comes to really important texts. 
Alex: The fact that you were checking your texts while you were doing it is already sad.
Meredith: We have a special ring tone. Hey you want a special ring tone?
Alex: No.
Meredith has been grooming Alex to be her new person all season, but he still has a lot to learn. Jo has mostly been uncomfortable with the closeness of their friendship, so I was pretty surprised that she was on board with the pausing. Alex was clearly just as baffled. 
So what happens next? Will April and Jackson keep the baby, and if they do, will there be a miracle? What about Dr. Herman's tumor?
I have a hard time believing there will be two miracles by the end of this season. My guess is at most only one of those stories gets a happy ending and it wouldn't surprise me if neither did. Is anyone else worried that Amelia might be a little too confident? I want her to succeed but we've already had one unlikely brain tumor survivor. This is Grey's Anatomy though - where miracles happen. 
If you're feeling lonely, let your favorite doctors keep you company and watch Grey's Anatomy online any time via TV Fanatic. 
NOTE: Grey's Anatomy Season 11 Episode 11 will be titled "All I Could Do Was Cry" and will air on Thursday, February 12. 
Stacy Glanzman was a staff writer for TV Fanatic. She retired in March, 2019.