Law & Order SVU Season 16 Episode 15 Review: Undercover Mother

Narsimha Chintaluri at . Updated at .
Law & Order: SVU Season 16 Episode 15 was an intense hour that thankfully climaxed in an emotional, and satisfying mother-daughter reunion. However, we weren't allowed to end on that happy note. We now know Noah's father – and I kind of wish we had never found out.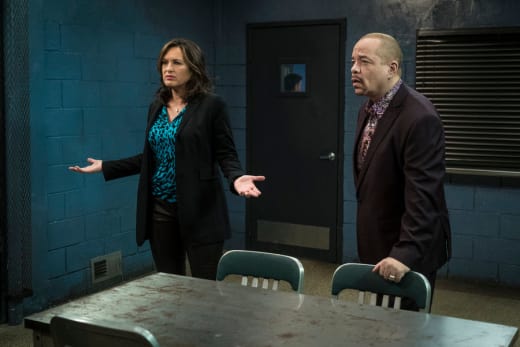 This life changing news left Benson stunned speechless at the end of "Undercover Mother" (the title of this episode seeming to refer to more than just Martha). And it makes sense – just as she was finding her groove with the young boy, who's already been through so much, she finds out that one of the biggest traffickers in the country is his father. 
Now, I don't really get how this works, but maybe my memory is just a bit fuzzy: is this just a random plot twist? Because it seems awfully convenient. However, if it isn't, and there's some context I'm missing here, feel free to point it out in the comments below.
Regardless, it's an interesting development and will definitely affect the dynamic between Benson and her soon-to-be-son. 
The other mother of the hour, Martha, was played wonderfully by Lili Taylor. She embodied the role of a mother desperately searching for her kidnapped daughter perfectly, and deserved being reunited with Ariel. It's difficult to imagine losing a 13-year-old daughter to the sex trade, let alone actually being the young woman going through it. Both Ariel and her mother proved to be strong and resilient, with the latter being a caring woman in general, not just when it comes to her own kin.
Nina: No one's ever came looking for me.
Martha: Who told you that?
Nina: Timmer.
Martha: And you believed him?
The ever-underrated Donal Logue stole the show with his surprise appearance as Declan. The former Lieutenant was in full-blown undercover mode, pistol-whipping poor ol' Carisi (who, by the way, apparently can't tail a car properly) and speaking with a pretty darn convincing Irish accent. His dedication was scary to be honest – he was even ready to spend a week at Rikers to keep things from looking suspicious. 
However, there are lines in the sand that are getting swept by his fierce forward momentum, I can see this coming up as a future plot line/problem for Benson and her team to deal with. Aside from Carisi, who's probably still icing his nose, the gang is a fan of Declan, but that doesn't necessarily mean they approve of his methods. 
You gotta put me back in holding, now! Please! Before you make things any worse.

Declan
Barba, who's usually my favorite character, by far, was actually a stick in the mud this week – showing almost zero empathy for a woman who had her 13-year-old daughter stolen from her. 
I was glad Benson sidestepped his guidelines in order to get results and keep her promise to Martha. You could tell they had a strong bond from pretty early on in the episode.
Benson: I don't know how you're still standing.
Martha: Well, moms dont sleep! You know that! They told me you have a little boy.
The hour was definitely engaging, and provided great payoff for once. However, being from Boston, I could've done without Carisi's retrospective quip about the Patriot's win over the Seahawks. 
Alright, so you gotta put your money on the Pats. They're gonna make sure New England wins this even if they gotta rig the last play of the game.

Carisi
Either way, "Undercover Mother" was exciting and rewarding, while also steering the story of Benson and baby Noah in a new direction. Hopefully everything works out – Benson deserves at least that much. 
Watch Law & Order: SVU online in order to relive this undercover fiasco, or, if you're a Seahawks fan, time travel back to a world where the Patriots haven't made you sob uncontrollably in disbelief. Check out Law & Order: SVU quotes for more highlights, and, as I mentioned, make sure to leave your thoughts/comments down below!