CSI Cyber Season 1 Episode 4 Review: Fire Code

Amanda Wolf at . Updated at .
The intro to the case this week included electric devices going haywire and a printer bursting into flames.
I could not help but be reminded of the X-Files and its quirky, strange happenings that set the FBI agents on the investigative trail. Apparently the victim even reported that she thought her apartment was possessed. 
Of course CSI: Cyber is a different show and on CSI: Cyber Season 1 Episode 4 the criminal was a lot more human than those we saw on the X-Files.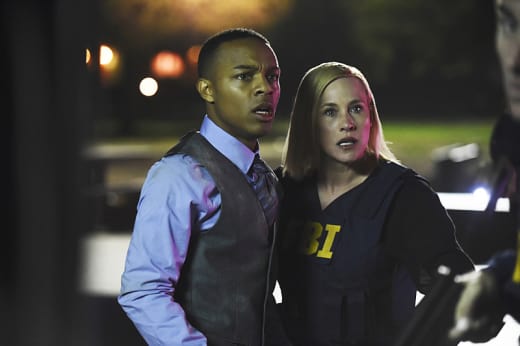 I am starting to roll with the story lines on CSI: Cyber, even though I still think that they are traditional crimes with pinch of cyber thrown in.
The nit-picky comment I have is about the relationship between using WiFi to hack into the printer and the electronic devices going haywire. How did the hackers manage to get into both? I am just going to assume the code was able to target the printer through WiFi to make it print and hacked the electricity separately. 
This hour gave us some really good character development to comment on and discuss. 
I suspected that Nelson knew the person who wrote the printer hacking code by the way he was acting throughout the first half, but I didn't see it coming that he was actually the author. Based on Avery's comments that only someone extremely smart could have done this, the FBI are very lucky to have him on their side. 
It was admirable that he did not want to give up on his friend. I think Avery saw this and respected him more for it. It was intriguing to hear about another hacker that Avery tried to reform who betrayed the team. I suspect that we will be seeing this person in the future. 
Nelson had to make a choice at the end and decided that his new life was one that he wanted to preserve. To be honest, I don't think it was much of a choice considering how risky it would have been to accept the two million dollars and try to escape the country on the fly. If the situation were less risky I wonder what his choice would be. What do you think? 
My two favorite scenes were Avery being the boss to Mundo and the hacking session that Krumitz and Nelson had.
It was awesome that Avery called out Mundo on snapping at Krumitz. He was out of line and it was unfair to bring his personal business to work (no matter what it was) and unleash it on someone who didn't deserve it. We got a reminder that Avery is the boss here and her team listens to her. 
Krumitz and Nelson hacking away for hours was comical, although there was not nearly enough Red Bull or Cheetos present for the kind of hours they were putting in. 
It was sweet to see Mundo reunite with his ex-wife at the end and convince her to give their relationship another try. Since this is the first time we have met his wife, it seemed a little sudden, but I am willing to get behind this story to see where it takes us. He better maker her happy, since I assume she won't be taking that sweet job in San Diego!
What did you think of the case this week? Did you find it entertaining, over the top or just average? Do you have a favorite character yet? So far we have learned about almost everyone's past except Raven's. Do you have any predictions for what her story will be and are you excited to find out? 
If you haven't yet, remember you can watch CSI: Cyber online via TV Fanatic!