Sonny left town, Jordan's hopefully not far behind, and Eve and JJ were caught in the act when Jennifer walked in on them in bed. It certainly wasn't a boring week in Salem.
Our TV Fanatic Christine Orlando is joined by Unavitasegreta and Kpatch from MyHourglass a Days of Our Lives fan forum to discuss how Jennifer's choosing to use the heel on Eve's throat, Sonny leaving Will, and whether Jordan should head out of town for good and take her family with her.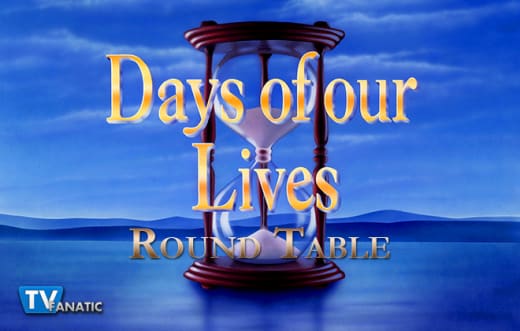 Was Jennifer right to use her power over Eve to try and give JJ and Paige a second chance?
Nick: No, because literally no one wants JJ and Paige back together, so the longer this story goes on the more boring it becomes.
Unavitasegreta:  I think she's insane to believe that JJ and Paige could ever have a real relationship with this secret hanging over them, but I did love Jennifer finally having the upper hand with Eve!
Kpatch:  Yes. She wants to see her son happy, and right now he is at a dangerously low point. She remembers her well-respected grandfather doing something similar, so there is precedent for her actions.
Christine:  I understand that she wants to give JJ hope but I think she's out of her mind. JJ will find an even lower point when Paige finds out the truth and she undoubtedly will. Plus resuming his relationship with Paige inevitably means spending time around Eve and that's an incredibly bad idea.
Should Sonny have gone back home to Will?
Nick: I wish Sonny had gone home with Paul, but sadly that ship isn't happening yet; however, no, Sonny should not go home with Will. Will is still way too into himself and his own excuses for sleeping with someone.
Unavitasegreta: No. Sonny needs to get far, far away from Will and his excuses and blame-shifting.
Kpatch: Sonny is putting himself first for once. He's been through more than one traumatic experience in a very short period. He should take as much time as he needs to come to terms with it all.
Christine: Sonny was smart to go away, continue to heal and try and clear his head. He needs time to figure out how he feels and what he wants to do next. As usual, Will was being selfish and manipulative. Sonny deserves better. 
Jordan is taking a job in New York. Do you hope it's permanent or would you like her to stick around Salem?
Nick: Permanent, what a waste of a character. So much potential, and all of it squandered by doing absolutely nothing.
Unavitasegreta: I hope that we never see her again and that her brother and step-father decide to join her in NY.
Kpatch: This question made me laugh. Next. :)
Christine:  Yeah, is this really a question? Jordan has been the catalyst of some of the most boring stories since she got to Salem. Good riddance and I hope her brother and father are quick to follow. 
Adrienne knows Will cheated on Sonny. Who will she tell first?
Nick: I would've said Justin, but now I'm not so sure. I would think Victor, Maggie, or Lucas at this point over Justin now.
Unavitasegreta: I'd say Lucas since they're growing so close, but he's Will's father so I'm not sure.  
Kpatch: I didn't realize she knew. I must have missed this. Considering their current friendship, I would guess she'll discuss it with Lucas.
Christine: That's a tough call. She's feeling closer to Lucas but Will is Lucas' son. That will make it difficult to vent her anger to Lucas. Of course Justin hasn't been around at all. Could this horrible news pull them back together or make the rift worse? Is there anyone else Adrienne would talk to about this?
Nicole told Daniel to make a decision about them. What do you hope he chooses?
Nick: That she's leaving the Freaking Jonas Cult for good.
Unavitasegreta: I hope that he decides Nicole is a catch and that he needs to chase after her and woo her because she's worth it.  But I know that will never happen.  Therefore, I hope he sets Nicole free to go find someone who will appreciate her and love her for the imperfect, flawed, and insecure person she has become.
Kpatch: I hope he chooses to let Nicole make a fresh start without him.
Christine: I actually kind of like Daniel and Nicole, when she's not begging for forgiveness. Before this Serena mess, Daniel was a lot less judgmental and he seemed to accept Nicole for who she was. Eric or Rafe will never be comfortable with Nicole's shenanigans, even if she is on her best behavior. I'd like to see Daniel and Nicole get a second chance and start over. 
Was there anything that disappointed you this week in Salem?
Nick: Learning that Sonny is leaving to clear his head. I want him to continue giving Will the third degree. 
Unavitasegreta: I am always disappointed when reminded that Brady and Melanie are a couple.
Kpatch: Yes, Nicole's constant groveling to Daniel. I lost count how many times she went to his apartment to tell him she's going to give him all the time he needs to decide. F.I.L.L.E.R.
Christine: Will. I didn't think he could go any lower but he did. He used every emotional manipulation he could to stop Sonny from leaving for Phoenix. Then he turned around and tried to throw all the blame on Paul, the guy who didn't have any clue that Will was married never mind to whom. I'm sincerely hoping that Sonny dumps Will. He deserves it. 
What was your favorite scene or story line on this week's Days of Our Lives?
Nick: The part with Will and Paul arguing. I loved him calling out Will's cheating ways by saying he would've never cheated on Sonny if they were married. Such soapy goodness, and Adrienne overhears!
Unavitasegreta: I absolutely loved the Jennifer/Eve/JJ story this week.  All three actors delivered compelling performances in every scene.
Kpatch: All of Jennifer's scenes this week. Her initial reaction to JJ and Eve's affair was so satisfying. And the way she handled both JJ and Eve separately in the aftermath was perfection.
Christine: This was the first time in a long time that I loved Jennifer once again. It was great watching her get the upper hand on Eve, I only wished she hadn't used it to get JJ and Paige back together. 
C. Orlando is a TV Fanatic Staff Writer. Follow her on Twitter.