Grey's Anatomy Round Table: Are You on Team Omelia?

Christina Tran at .
Welcome back to the Grey's Anatomy Round Table!
It was all about Amelia on Grey's Anatomy Season 11 Episode 13. The installment gave Stacy Glanzman, Krystal Sondel, Amanda Steinmetz and Christina Tran plenty to discuss regarding Amelia's lectures, Omelia and so much more.
Ready to gather around and join in? Leave your takes in the comments!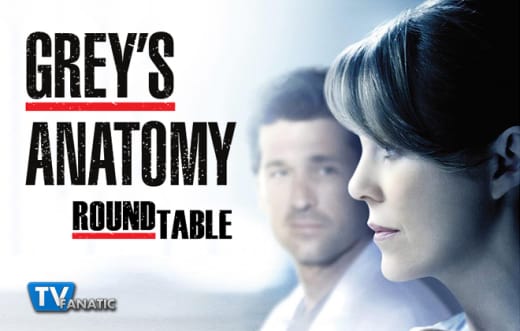 What was your favorite quote or scene from Grey's Anatomy Season 11 Episode 13?
Stacy: I liked Herman's comment about the clouds on the ceiling and how they should put porn up there. That was funny.
Krystal: I honestly thought this episode was directed and edited so creatively. I thought it was great to see both sides of the story – to see how Amelia (the doctor) was preparing for this surgery, and also what life was like for the patient (Dr. Herman). It really was a great way to look at this storyline, and I'm excited for next week.
Amanda: I loved Dr. Herman's little speech to Arizona about not being ready to die after everything that's happened. She's scared now and she blames her. Geena Davis' delivery was both sad and funny.
Christina: I'm with Stacy. Here was Herman's quote: "Charming, isn't it? They put clouds on the ceiling to distract you. The least they could do is put up something interesting like porn."
What did you think of Amelia taking center stage? Are you ready to see more of her story next week?
Stacy: I'm okay with it for an episode or two, but I don't think she's a strong enough character to carry the storyline too often. She works better as a supporting character.
Krystal: As a huge fan of Private Practice, I was so thrilled!! I was kinda bummed when I saw the comments from Christina's review this week and many people commented they didn't like it. My suggestion – if you didn't watch Private Practice, give it a go. It will bring so much more to Amelia's character and you will be more invested in her.
Amanda: Like Krystal, I loved Amelia on Private Practice. I understand people who didn't watch that show being wary of having entire episodes devoted to her, but they should give her a chance. I think it's important for people to learn more about her and who she is as a surgeon and a person.
Christina: I couldn't have said it better, Krystal and Amanda. I, too, was a little shocked after reading so many comments about how Amelia just wasn't cutting it for so many viewers. However, it makes total sense if you know so little about her. Give Private Practice a try. You won't regret it.
Will Amelia be successful in saving Herman in the next episode?
Stacy: In the past weeks I've said that Amelia seemed too over-confident and that worried me, but this week was different. She's still confident but she's also nervous and she's put so much work into this. I think I'm leaning towards success now.
Krystal: All along, I've leaned towards her being able to save Dr. Herman and after this one I'm still convinced. They almost set it up like she would fail, so I think even more it will work out. Plus, I think it would be an interesting storyline for Dr. Herman to see how she adjusts to life after the tumor. She thought her time was limited, what would she do now? I'd like to see that storyline!
Amanda: I hope she is, but I can't be certain. I'm leaning toward Dr. Herman surviving. We just went through some heavy episodes with Jackson and April, so it would be nice to see some triumph.
Christina: I want to see Amelia succeed. I've rooted for her since day one and have grown to like Herman.
Omelia: Yay or Nay?
Stacy: I think they're a cute couple. I'm down with it. I never liked Owen with Cristina and Amelia seems like a better fit for him.
Krystal: Heck yes. They have both been broken in different ways, and I think it's wonderful for them to come together.
Amanda: Yes, please! It became clear very early on that Owen and Cristina would never be on the same page or want the same things. I feel like Owen and Amelia have the potential to be a great couple, so I'm looking forward to watching their development. Plus, she was adorably awkward around him after they kissed in the last episode.
Christina: Is there a third option right in the middle? Simply put, I'm not sure yet about Omelia.
We've officially made it to the second half of Grey's Anatomy Season 11. What's one thing you'd like to see more of before season's end?
Stacy: I know I've said it before, but I want more Jackson in the OR! I know he needs some time now to grieve, but I hope by the season's end we can get more of him operating. We hardly ever see him interact with patients anymore.
Krystal: More of Meredith with whoever is going to actually be her person. Whether it's Alex or Maggie, those scenes have all been great. She can have them both as person as far as I'm concerned.
Amanda: I think I said this during the first half of the season, but clearly the writers weren't listening to me. I need more Alex. He's barely done anything all season long. I'd also like to see more of his relationship with Jo.
Christina: I'd like to see more camaraderie amongst the doctors. This season has been very different, but I'm liking the direction. Some major things have happened, and I just want to see the doctors really be there for one another in good times and in awful ones, too.
Grey's Anatomy Season 11 Episode 14, "The Distance," airs Thursday, March 5.