Hart of Dixie Season 4 Episode 8 Review: 61 Candles

Amanda Steinmetz at . Updated at .
I can't believe this. They *bleeping* forgot my birthday! 
Like Samantha Baker in Sixteen Candles, Brick found himself in a nightmare where BlueBell had forgotten his birthday.
Thankfully, all was not lost on Hart of Dixie Season 4 Episode 8, as everyone managed to throw him a last minute party. 
I love a good movie throwback, so I enjoyed this Sixteen Candles inspired episode. Meatball even sang a cover of the Thompson Twins' song, "If You Were Here" that plays at the end of the classic 80's movie.  
It was funny to see Brick's frustration throughout the episode. He kept being disappointed every time he thought a surprise party was coming his way. Thankfully Shelby realized she had her days wrong, and threw him a party to make it up to him. 
Brick takes care of the town, so a little appreciation is nice.
Lemon had been distracted by having to share Lavon's time with Zoe. That's right, Lemon and Lavon are officially a couple now. 
Lavon, I've been waiting for the perfect moment, and I certainly didn't think that it'd be a time when I am covered in alpaca droppings and mud, but I just cannot wait any longer because I love you.

Lemon
YAY!
Things were off to a terrible start over breakfast between Lemon and Zoe.
To be fair, Lemon shouldn't mess with breakfast. Zoe and Wade need their morning pancakes and pastries! I love that they keep explaining how Lavon has so much food in the morning. It's delivered. 
I enjoyed watching Lemon and Zoe attempt to get along in their usual passive aggressive manner. It wasn't until Zoe broke down in front of her, that Lemon compromised. 
I wasn't expecting Lemon to give Zoe the heirloom she had been hoping to find, but I'm glad it was her. It made Zoe happy to share something with her son, and it also provided an opportunity for these two women to settle their differences.
Lemon: Here's the thing. I knew Harley, and even though my daddy and Harley didn't always get along, I always thought that he was a real nice guy. So, if you ever want to talk about him, I'd be happy to.
Zoe: Thank you. That's really sweet.
Lemon: Don't get carried away.
I'm sure they will continue to have little battles, but maybe they will be closer now.
I had to chuckle a little bit when Brick asked how Lavon and Lemon got together out of the blue. I guess Brick never found out about Lemon's secret past with Lavon. 
George and Annabeth are still going strong and clearly falling hard for one another. I'm all aboard this love train. They got the seal of approval from his parents, even though they found them in a compromising position. 
George's parents also approved of his new side business in music management. 
Side Note: It's hard to believe that Meatball would be close to getting a recording contract. There's just no way that would happen in reality. I know BlueBell is a strange place, but Meatball as a professional singer has got to be one of the strangest things to happen yet. End Side Note
George: I've been meaning to ask you, did you really mean what you said about me and music managing?
Annabeth: Hell yeah. I'm so proud of you.
George: Wow. You're amazing, you know that? I'm kinda, sorta falling for you, Annabeth Nass.
Annabeth: Well, right back you sir.
So it appears the show is trying to get everything in order for the end, if indeed this season is the last.
Wade is becoming more fatherly and family oriented (just look at him dancing with the baby at the end!), Lemon and Lavon are finally together, Zoe and Lemon made amends, and George and Annabeth got approval from his parents.
It's clear the writers are trying to tie everything up in a pretty bow. Normally I would have a problem with a show wrapping up everything so neatly, but this is the type of show that demands everyone get a happy ending.
So over to you guys! What did you think of the episode? Were you glad to see Lemon and Zoe come to an understanding? Would you buy an album sung by Meatball? What are your predictions for Hart of Dixie Season 4 Episode 9?
Sound off below, and don't forget you can catch up on any missed episodes when you watch Hart of Dixie online via TV Fanatic!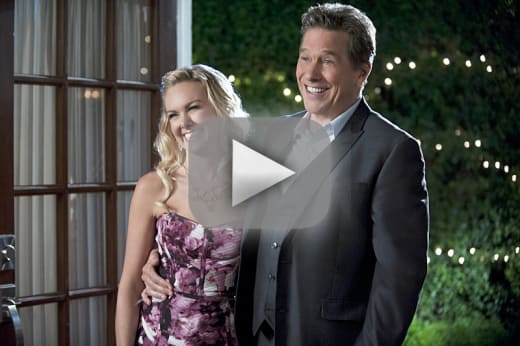 Amanda Steinmetz was a staff writer for TV Fanatic. She went into retirement in June of 2027. Follow her on Twitter.