The Blacklist Season 2 Episode 15 Review: The Major

Sean McKenna at . Updated at .
If you've been missing out on The Blacklist (or you've completely forgotten about everything up until now), then The Blacklist Season 2 Episode 15 is the one for you.
For this hour, Liz portrays a fan of The Blacklist telling the judge, someone who has never seen the series, all about the show.
Yup, this was basically just a recap with flashback clips.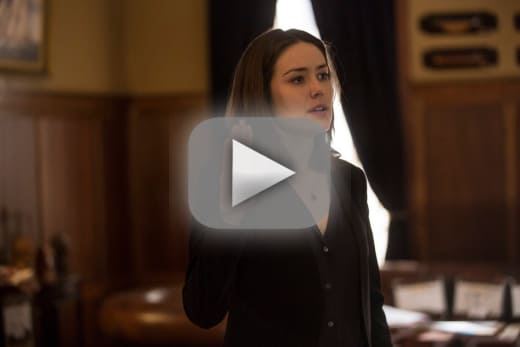 I understand that Liz needed to tell the judge all about her escapades as an agent with the special FBI task force, and that probably would require her past missions. But couldn't the whole conversation be done off camera since we already know what's been happening so far?
Trust me, I love a good "previously on" segment, but at the start of the episode, not for a majority of the episode.
I'm certainly pleased that the murder case against Liz hasn't been dropped despite the witness recanting. Liz probably won't be convicted for the crime, but it's good to see there are at least some repercussions for her going rogue with Tom.
And despite the deep hole that Liz seems to have dug herself in, Harold really must like her for saying she was on the boat as a part of their clandestine operation. That was a pretty big move on his part, and it just shows again how much of a good guy he is.
Tom on the other hand, he seems rather off the walls unstable.
In fact, we found out that Red hired Tom to watch Liz, but Tom flipped and began working for Berlin.
If Liz wasn't mad at Red before…
The hour really played up Tom even going so far as to show him as a youth being recruited by The Major before becoming the full-fledged undercover agent.
Now, he's spouting out German and hanging out at German bars that play their share of head-banging music. And he really is method when he gets into his roles, isn't he?
But is his mission going to be pertinent or is that just what he's been doing until Red finds him to help out Liz with her murder case?
Of course, Red was able to find The Major and pull out the info that he needed, which per usual means some great James Spader monologue moments and intense stare downs.
However, I couldn't help but agree with Dembe's suggestion that Red tell Liz everything. Not just the stuff about Tom, but everything.
I'm sure it will be a difficult conversation to have, but Dembe is right. It's time to get things out in the open.
But we know that won't happen until at least the season finale, right? Still, Dembe proved just one more reason why he is a fantastic character on this show. Though, I miss his ear-flapped hat...
Overall, this was a disappointing episode. I was far more interested in seeing the stuff with Red or even Tom than I was with Liz. But those moments were small and interspersed with Liz retelling the story of The Blacklist.
And that may be great for brand new fans who don't want to start from The Blacklist Season 1 Episode 1, or people who only catch an episode here and there, but I'm sure most don't want to spend basically the entire hour recapping what we've already seen.
A little nostalgia can be fun, but the longer it went on, the more bored I got.
I'd much rather spend more time going forwards that backwards, and it seems that Tom is definitely going to be playing a major part in going forwards.
Let's just hope Liz doesn't have to tell her story in open court next.
Did you enjoy the recap hour? Will Tom be able to help Liz? And If you want to see all of Liz's missions in full, watch The Blacklist online right here at TV Fanatic.
Sean McKenna was a TV Fanatic Staff Writer. He retired in May of 2017. Follow him on Twitter.