Michael Ealy makes his debut tonight on The Following, portraying the wicked new villain known as Theo.
Ealy recently spoke to the press about what fans can expect from the character as well as what it's like to play a villain.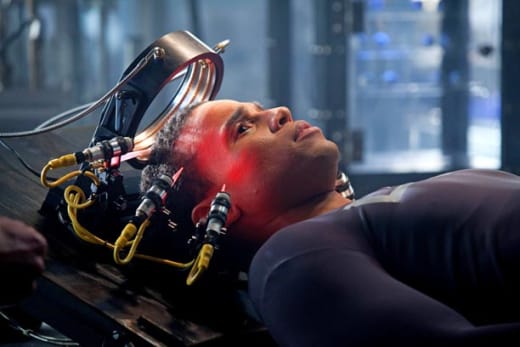 Theo has previously been described as a chameleon, so I asked him if he could elaborate on that. Ealy said, "Theo has the ability to morph into various identities, both physically and logistically. So if he takes on a different persona, or a different identity rather, he'll change himself physically."
To clarify, Ealy did emphasize that he's not a shape-shifter, but that he uses disguises. It sounds like he's going to be very different from the villains we've seen so far.
In fact, knowing that he was joining a show that already had a well established villain, Ealy said with Theo he tried, "To steer away from Joe's rhythm of speech and the clever banter back and forth. He went on to say that he "wanted to make Theo a bit more terrifying and not go down the same path as Joe."
That's not the only thing that differs between Theo and Joe. Ealy emphasized that, "Unlike Joe, Theo does not seek the glory, the fame, the followers. He would rather be left alone and be able to fulfill that blood-lust under the radar."
It sounds like Theo will prove to be an elusive and significant threat to Ryan and his team.  It should be a refreshing change of pace from the attention-craving Joe and Mark.
Ealy has played mostly good guys in his career, so naturally playing a character like Theo brought new challenges. When asked, Ealy said "The challenge was to try and understand the character. Previous characters I've played, I've always been able to kind of identify with some element of the character."
He continued, "What I found difficult about Theo was, I don't have a blood lust, I don't have a desire to kill. I've got to find something about the character that I identify with. And what I found was this theory of wanting to stay underneath the radar. That's harder to do nowadays, in this business, so Theo not wanting to be Joe, not wanting followers, not wanting attention from the media. All of that was my 'in' for Theo."
It is interesting that on a show called The Following, one of the villains doesn't want followers. I wonder if that means he's a follower himself? Probably not one of Joe's, but maybe he learned from Dr. Strauss? I guess we'll find out soon enough!
The Following Season 3 Episode 6, "Reunion," airs tonight on Fox at 9/8c.
Stacy Glanzman was a staff writer for TV Fanatic. She retired in March, 2019.