The Following Season 3 Episode 6 Review: Reunion

Stacy Glanzman at . Updated at .
Just when you think someone might be around for awhile, he ends up nearly decapitated in a bloody mess on the floor.
Seriously, who thought Strauss would be dead this quickly? I am loving the pace of The Following Season 3 so far. 
The Following Season 3 Episode 6 introduced Michael Ealy's new character, Theo. That was one heck of an entrance for him!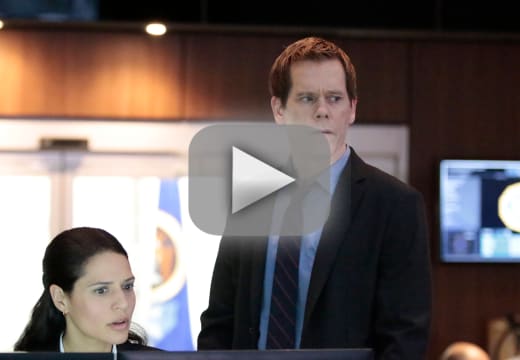 I'm already loving Theo and his multitude of disguises. Personality-wise, he's vastly different from Joe or Mark. He's calm and collected rather than completely over-the-top. As much as I've enjoyed the tenure of Joe and Mark, it's refreshing to have a more low-key villain on the loose. 
There's no doubt that he's just as scary, if not more so. That clown mask is creepy and listening to him describe why he doesn't want to limit himself to a particular method of murder gave me chills. It helps that Michael Ealy is incredibly talented. 
It's really interesting that Theo has a family, isn't it? That explains why he wants to fly under the radar and avoid drawing attention to himself. I know Joe had a son, but with Theo it feels different. He uses the disguises and his computer skills to create these different personas and kills as them, not as Theo. Theo is saved for when he's home with his family.
Joe is back! How do we feel about that? Personally, I was hesitant about the idea of him working with Ryan, but it actually worked better than I expected. There's definitely a Silence of the Lambs feel to it. I am liking the parallels between these two and the idea that one can't exist without the other: 
Do I need to remind you Ryan? When I die, you die.

Joe
I don't know if Ryan will have time to visit every day, but I suspect there will be quite a few more trips made on his part to gather information. Strauss may be dead, but that doesn't make Joe's knowledge any less valuable. 
If Joe weren't a psycho killer, he'd make a good profiler. He knew immediately that Ryan was in love. I get the feeling he can't read everyone that well, though. Ryan is special. 
Regardless of the fact that Max cheated, we can all agree that Tom is super creepy, right? I can't believe he's still spying on her with that laptop. Why doesn't he just confront her like an adult? He seriously needs to tell her about the cameras. Even if he has the only feed and no one else is watching her (which he doesn't know is true), she at least needs to get her locks changed and reset her alarm code. How long until computer-genius Theo hacks into the feed? 
Max may be the one who cheated and is now lying about it, but regardless, Tom needs to be cut loose. 
Mike: I'm sorry.
Max: What are you more sorry about? That I was beat to hell or that Mark got away?
That doesn't mean she should run back into Mike's awaiting arms, though. It's going to take some time for him to earn the trust of Max and Ryan again. 
I wonder if he were put in the same situation again, would he make the same choice? What do you guys think? Will Mike end up killing Mark by the end of the season?
Tom overheard Max telling Mike she won't cover up another one of his executions. What will come of that? He can't tell anyone what he heard without admitting he stole a laptop and withheld evidence. Will he try to blackmail her for something? I can't imagine what, but who really knows what is going through his head. 
I'm starting to worry that Gwen is a bad guy the way she was pushing Ryan for information. Hopefully that's not the case; as I have said before, I like them together. Plus if she did turn out to be spying on him, it wouldn't be that big of a twist, it would just be a disappointment. 
What did you guys think? Do you love Theo already? Are you happy Joe is back? Sad that Strauss is gone? Hit the comments and let me know!
Don't forget you can watch The Following online any time! 
Stacy Glanzman was a staff writer for TV Fanatic. She retired in March, 2019.