Don't let the gifts of muffins, Champagne, and deep dish pizza fool you. Everyone expected something back from The Good Wife Season 6 Episode 17. 
Everyone loves a winner; almost as much as they enjoy trying to take them down and Alicia's colleagues appeared to be more than eager to take advantage of her predicament. Now that she won the State's Attorney's office, she was no longer allowed to have a financial interest in the firm she helped create.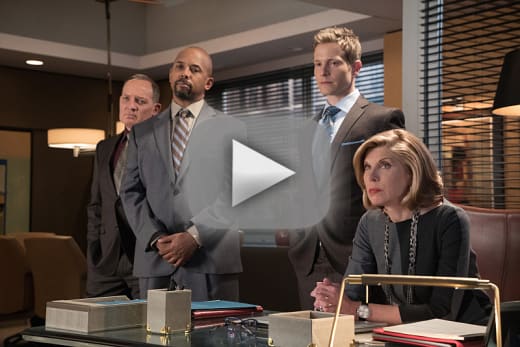 Florrick, Agos, and Lockhart (can they still keep the name Florrick?) has to buy out her share, and being true lawyers, they were looking to do it at bargain basement prices. Never mind that Alicia was a founding partner and that she and Cary built this firm from the ground up. At least Cary had the decency to mention that. 
Although there was plenty that entertained in "Undisclosed Recipients," there was plenty to be disappointed in, as well. First off was that Cary and Diane didn't seem to really have Alicia's back. Were they both truly angry at her that she'd chosen to run for State's Attorney?
It certainly sounded like it when Diane told Alicia in this The Good Wife quote…
Respectfully Alicia, our interests have not been aligned since you used our office as a staging ground for your political career.

Diane
That sounded rather hypocritical since we know Diane would have jumped at the chance to further her own political aspirations if the opportunity had arisen. 
The e-mails that were hacked were hysterical and all too telling. We learned that Alicia and Elfman did indeed have a one-night stand and remembered how very hot she and Will were for one another. None of which would look good for the still very married Alicia if it got out. 
Or would people even care? Peter's dalliances with hookers were well publicized. Perhaps the public wouldn't be all that fazed to find out that their marriage was in name only. 
I hated that the firm ended up settling the case with WharfMaster. They can wrap what they do in that a world without fences propaganda all they want; what they're doing is stealing someone else's property and it's illegal. I hate it when the bad guys win. 
Alicia got plenty of visitors in this episode, including the always despicably memorable Guy Redmayne. By the time he left her office the first time, I kind of hoped that Lemond Bishop would deal with him in whatever way he felt appropriate. 
You mean the man, Guy Redmayne who came in here and pressed his groin against me, compared my feet to those of an Arizona prostitute and then demanded that I hire a deputy SA of his choosing?

Alicia
Yup, that's him and as much as the man disgusts me, Eli was right. Alicia needed to play the game, or at least give the impression that she was doing just that. It's much too soon to make enemies. They'll be plenty of time for that later. Like say in 48 hours. 
I figured Alicia would ask Finn to be her second in command, especially after Prady turned her down. I'm just not entirely sure I want him to take it. Honestly, I'm not sure he's tough enough for the position and Alicia needs a strong right hand man.
The biggest highlight of the hour was finding out that Marissa is sticking around as Alicia's executive assistant. Yay! She's got all the best lines on the show. 
As for Alicia taking over the State's Attorney's office, I'm still on the fence. Will Alicia and her former friends at the firm now turn out to be adversaries? Will the ensemble feel of the show change? I suppose only time will give us that answer.
If you can't wait for the next new episode, you can always watch The Good Wife online here at TV Fanatic.
C. Orlando is a TV Fanatic Staff Writer. Follow her on Twitter.