The Real Housewives of Atlanta Season 7 Episode 16 Review: Southern Discomfort
Miranda Wicker at . Updated at .
Todd and Kandi are headed to marriage counseling on The Real Housewives of Atlanta Season 7 Episode 16. They're having some issues between the sheets that it doesn't seem like Bedroom Kandi can solve!
Elsewhere, things between the rest of the women get heated! Let's get down to this week's recap!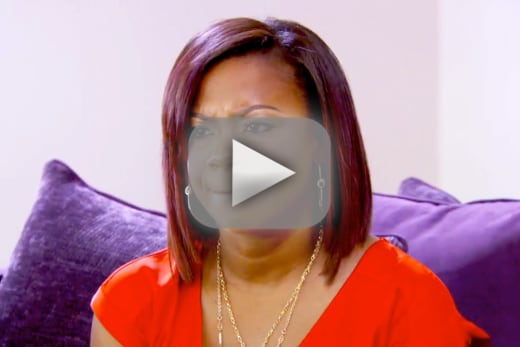 Cynthia and Peter chat about his upcoming event, the Source Awards. Cynthia invited all the girls before she blew the lid off Phaedra's text messages, but now it's getting dicey. 
Phaedra has dinner with Porsha and they both discuss how Cynthia just jumped right in with the mean girls by dumping all that "dirt" out on the table at their dinner. Cynthia, at the same time, tells Peter she's just really not very good at that sort of thing. 
SO MAYBE YOU SHOULD STOP TRYING IT, CYNTHIA. Minus 8.
Porsha and Phaedra discuss how they both supposedly have African princes (after Porsha coughs and jokes she must have "the Ebola" minus 5) while Cynthia says Kenya had the first African prince.
"Atlanta just be Coming to America all day long." --Peter Thomas, ladies and gentlemen. Plus 4
Porsha thinks Kandi should have been more vocal at the dinner she hosted and suspects Kandi didn't jump up and run out after Phaedra because Apollo and Todd are good friends. 
Let's remember here that Kandi knew about the texts and didn't tell the girls, okay? 
Kandi and Todd head to marriage counseling with Dr. Blake, who was recommended to her by Porsha. She knows things didn't end well for Porsha and Kordell, but that's probably not the doctor's fault, right?
Todd just sits there and looks like he wants to cry while Kandi talks to the doctor. He brings up the pre-nup and says a lot of things changed when she handed it to him. He says he's fine with it now, and the doctor says she doesn't believe him. Plus 2, Dr. B.
Kandi feels like the entire session is turning into a "What's wrong with Kandi" fest and Todd says he's not feeling it. They get homework and the advice that if they aren't emotionally connected, the disconnect will show up in their bedroom.
It's the night of the Salute to Excellence event and Cynthia wants to spend the night focusing on Peter. She probably should have uninvited the rest of the women. 
Claudia arrives first looking A. MAZING in a little black dress. Plus 7. Kenya's dress is meh. Demetria looks great. 
Kandi and Todd walk the carpet together and she calls it a date night, which is part of their homework. When she joins the rest of the women, Claudia tells her she's looking hot in lace and says she might end up pregnant that night. 
Kenya says "that'll be more fun than last night" and Kandi stays mum and then tells Cynthia that the way she brought it up was awkward. There was a better way to bring it up than she did since Cynthia and Phaedra don't have a beef with each other. Plus 8.
Peter and Todd talk about how Kandi definitely knew before the previous night. 
Kenya asks her if she knew about the affair and Kandi basically says "none of this is my business and I'm not going to sit here and gossip with you." I love Kandi. 
While Peter's giving his speech, Kandi tells Todd the girls kicked her out of the circle.
"You Kim Zolciak then."
"Wait, stop playin'."
Kandi and Todd get Plus 20.
Kandi gets an Excellence award! Plus 12.
Cynthia decides she wants to sit down with Phaedra to hash this all out without the distraction of the other women making things crazier. 
NeNe also visits a psychologist this episode, but her request is a little more...broad. As in THE broads. NeNe wants the doctor to sit down with ALL the women and help repair some of these friendships, and she seems genuinely distressed as she talks to him about their issues. 
This is actually a great idea! Good job, Gregg Leakes! Plus 8.
She warns the doctor there will probably be a lot of yelling and screaming. And maybe some tears. Yep. There will definitely be some of that.
"I love a challenge." --Dr. Jeff. Ohhhh, lord.
Cynthia and Phaedra head out to dinner for a one-on-one, but the only thing Phaedra wants is an apology. 
This dinner has the most awkward beginning of anything ever. Cynthia just jumps right into saying she wants to talk about the other night but only if Phaedra is able to have an adult conversation with her.
Phaedra reminds Cynthia that Cynthia issued the invite. Cynthia says bringing up the texts wasn't malicious. She was just putting information on the table. Minus 35
It's on. Phaedra points out that Cynthia obviously told Kenya beforehand and she didn't fact-check. Cynthia says Phaedra didn't fact-check either. 
Phaedra gets up and walks out of the dinner, refusing to sit and talk because it's nothing but an attack. Plus 10. I wouldn't stay either.
Kandi heads to her boutique, Tags, to meet up with Mama Joyce. She's playing the super sad card and says she wishes she still had Kandi's old house instead of the new house Kandi bought her. Minus 8.
Mama Joyce says Kandi's changed. Since she's been married, she doesn't go around the family anymore, but what Mama Joyce means is that Kandi doesn't hang out with her mom. Mama Joyce calls her critical and Kandi breaks into tears when she says Mama Joyce always finds fault in her and never accepts any blame for herself. 
Mama Joyce hands Kandi a key to the house. 
NeNe meets with the girls, minus Kenya and Phaedra, who did not get invited. NeNe doesn't want to have another argument and thought it prudent to leave those two out. Plus 30. GOOD CALL.
NeNe starts her speech saying they haven't all acted like grown women and Cynthia jumps in asking if NeNe's including herself in that...right as NeNe is including herself in that. NeNe shuts it down. Or she tries. 
Then she tells them all that she wants them to sit down and chat with Dr. Jeff. Kandi's not interested because she's already in therapy and she doesn't have beef with anybody. 
Claudia gets into the night in San Juan and wants to know why NeNe jumped on her and NeNe says she doesn't have an explanation. That's what therapy's for.
Kandi says she doesn't think she needs to be there and NeNe says "oh no, you comin'." Kandi keeps saying she's not coming and Porsha plays the game of "you have good, drama-free energy. Be there." She consents. Plus 7.
When NeNe and Porsha start talking to Kandi about Phaedra, Claudia and Demetria excuse themselves from the conversation and head to the bar. Kandi doesn't think she's having any issues with Phaedra, but Phaedra is definitely having issues with Kandi. 
They're all heading to therapy next week, and that's going to be...dramatic. (Isn't everything with these women?)
EPISODE TOTAL: +57 SEASON TOTAL: -561
Get your fill of the drama and watch The Real Housewives of Atlanta online!
Miranda Wicker was a Staff Writer for TV Fanatic. She retired in 2017. Follow her on Twitter.