The Real Housewives of Beverly Hills Season 5 Episode 18 Review: Confessions of a Housewife

Christine Orlando at . Updated at .
Does everything always circle back to Brandi Glanville's path to self-destruction? Let's recap The Real Housewives of Beverly Hills Season 5 Episode 18 in our +/- review...
Taking a look back at previous seasons tells the tale. In Season 2 it was Brandi versus Kyle and Kim Richards. In Season 3. Brandi was pitted against Adrienne Maloof.
Season 4 was where Brandi took on Joyce and turned on Lisa Vanderpump and now we're into Season 5 and it's Brandi versus Kyle, Eileen and Lisa Rinna. 
Has anyone else noticed the common denominator in all of the drama?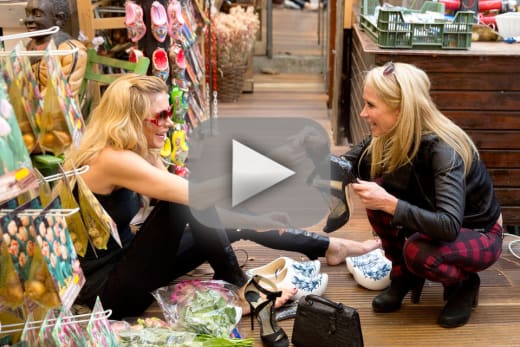 Of course if you talk to Brandi, everyone else gets away with murder while no one ever forgets her transgressions. Minus 25. Perhaps that's because there are so many of them. 
So when the going got tough for Brandi in Amsterdam, she decided to ditch the ladies and enjoy her Amsterboy. And boy was the appropriate term as Brandi hooked up with the handsome 23-year-old who had trouble drinking from a glass with a straw. But that didn't seem to bother Brandi as she shared in this The Real Housewives of Bevelry HIlls quote...
I don't know what the ladies are doing but I'm pretty sure it's not Andre.

Brandi Glanville
Brandi was quick to say she was dumping a dinner with the menopause ladies for a date with Andre but someone might want to tell Brandi she's probably closer in age to these women than she is to her latest boy toy. Minus 17. 
Yolanda Foster came to Brandi's defense once again and explained that she did it because she didn't want Brandi to show up and "be an assh*ole." I don't think Yolanda can stop that from happening. 
Plus 50 to Eileen Davidson's cheer of "Yay!" when she learned that Brandi was skipping dinner. No one can say she's not honest about how she feels. 
Back in Beverly Hills. I did feel badly for Brandi when her father ended up in the hospital but it was hard to take her tears seriously as you couldn't see them through her facial mask. Minus 22. 
Elsewhere Kyle decided to take another crack at repairing her relationship with Kim as she invited her to her new home in the desert. 
Kyle gushed, "I have a love affair with the desert." Well who the hell wouldn't if they had that house! Plus 43. It was beyond gorgeous. 
No wonder Kim looked jealous. It wasn't long before she was angry about their mother's house being sold. Minus 13. Kim has been arguing about that house since season 1. Maybe it's time to let it go. 
One moment Kim Richards was angry and bitter and the next she's finding Kyle in the kitchen and giving her a hug. Honestly, Kim might not be drinking but her unpredictable behavior makes me feel as though I could use one.
Episode total = +16!                              
Season total = -431!
Don't miss out on the drama, watch The Real Housewives of Beverly Hills online right here at TV Fanatic. 
C. Orlando is a TV Fanatic Staff Writer. Follow her on Twitter.