Agents of S.H.I.E.L.D. Season 2 Episode 18 Review: The Frenemy of My Enemy

Henry A. Otero at . Updated at . Comments
Talk about dangling carrots in front of us. The Von Strucker (mention) and List were the only Avengers: Age of Ultron connection. Didn't the teaser make it seem like we were in for a major treat?
This is why fans get extremely frustrated with the show. We want real tie-ins with the films. Certainly more than just a name drop here and there. Will Fury's toolbox appear in Ultron? Here's hoping, but I wouldn't bet on it.
Let's focus on the positives... Agents of S.H.I.E.L.D. Season 2 Episode 18 gave us Ward working with Coulson again. Need I say more? Yeah, a T.A.H.I.T.I. memory wipe sounds good to me.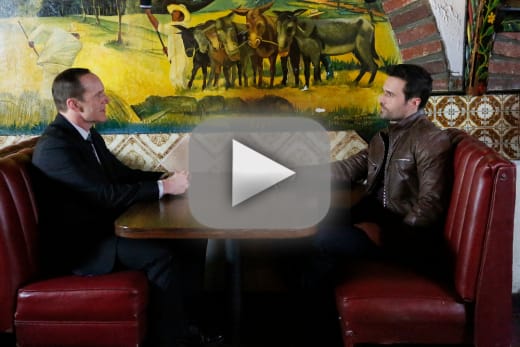 The episode kicked off with Fitz rejoining Coulson, Hunter and Mike (Deathlok). Again, Coulson mentioned Strucker and List stating that HYDRA might know where Skye is. We know one of Captain America: The Winter Soldier's post-credit scenes revealed the HYDRA baddies experimenting on Quicksilver and Scarlet Witch. There's your movie tie-in.
Honestly, it was much more exciting to hear that Coulson would be partnering up with Ward this week. Since outed as a HYDRA agent, Ward only became more interesting as a character. However, I miss him being an integral part of the story.
When Coulson mentioned a T.A.H.I.T.I. memory wipe, I wondered if that's how Ward might become part of the team again. Would any undesirable memories remain?
Ward: You know, last time I suggested we work together you called me a deluded son of a bitch.
Coulson: Things change. I'm offering you a deal. Help me and I'll let you walk away; free and clear. No more looking over your shoulder.
Ward: When something's too good to be true, it's a lie.
Coulson: Not lying. I tried to stick with you before, didn't work so well. So, I'm offering a carrot.
Ward: I'm listening.
Coulson: Get me inside. After that, I put you through the T.A.H.I.T.I. protocol and then you're free to go.
Ward: Wipe my memories? Wow that sounds like a threat, not a carrot.

The sit-down between Coulson and Ward was one of several cool moments between the two. I was waiting to see how Fitz would react around Ward, and it paid off nicely. Can you believe how he tried to pick up where they left off? "So Fitz, how've you been?" Ward asked... That bastard!
One piece of the puzzle that did work well was Bakshi. I had been wondering what Ward and 33 were planning to do with him. There was no actual purpose for his kidnapping until now. Programmed Bakshi played his part well.
The Inhumans arc was less interesting here. Okay, we get it; Cal doesn't belong in Afterlife and Skye feels bad. Jiaying clearly no longer loves him, but doesn't want to trigger the rage. There were some nice moments between Skye and her father though.
Skye: You can't just leave him on the side of the road like an unwanted puppy. It's irresponsible and cruel for both a puppy or Cal. Cal's not a puppy, he's a pit bull. A raging pit bull who will attack...
Jiaying: I don't want to hear about the people you think you're responsible for.
Skye: This isn't about them. This is about me. You asked me to be decent, give Cal one dinner. I did that and I empathize.
Jiaying: After one night you understand him?
Skye: Yes, because I spent my entire life searching for you.
The meeting between Bakshi and List was interesting, but hardly an exciting connection to Ultron. It appears the real connection is HYDRA's Inhuman experimentation. What would be cool, is to see Skye appear in the film, but that's unlikely. Hell, even a quick glimpse of Quicksilver or Scarlet Witch on the show would be a better tie-in.
Anyway, enough dreaming of what might be. List was after Gordon and HYDRA figured out how to track his quantum entanglement signature. That's not good news, it means they can (and probably will) track the teleporter back to Afterlife.
Meanwhile, Cal came to the realization he was being abandoned.
Skye: Cal let me explain.
Cal: No. What an idiot I've been huh? I see what's happening. You were going to dump me here like yesterday's trash. You don't want to spend time with me. This isn't daddy's day out. This is goodbye.
Skye: Not forever.
Lincoln: Skye don't...
Cal: Her name is Daisy.
In the end, there was a major S.H.I.E.L.D./HYDRA standoff. Watching Coulson and Ward fight side by side was a thrill. How convenient that when the "real S.H.I.E.L.D." hacked into Mike's eyepiece the first face they saw was Ward's.
It was a little frustrating Gordon popped in and took Skye (along with Cal) with him. Plus, HYDRA now has Mike and Lincoln. This means that next week's episode is going to be pretty exciting. Everyone's going to come together to save Lincoln, right? I certainly hope so.  
This week's episode was basically set up for what's coming next week. One of my biggest complaints is the show's overall pacing and the way we're constantly left hanging week to week. Don't get me wrong, it's fine to tease but make it worth while later on. The payoff's on S.H.I.E.L.D. are rarely as exciting as we're hoping for. Will the next installment deliver? Guess we'll find out soon.
What did you think of "The Frenemy of My Enemy"? Was the Ultron connection enough for you? Did you enjoy having Ward back in the mix? You're up guys, share your thoughts in the comments below. Look for our Agents of S.H.I.E.L.D. round table later this week.
There's just a handful of episodes left. Remember, you can watch Agents of S.H.I.E.L.D. online via TV Fanatic if you need to catch up.
NOTE: Agents of S.H.I.E.L.D. Season 2 Episode 19 is titled "The Dirty Half Dozen" and airs on Tuesday, April 28.