Agents of S.H.I.E.L.D. Season 2 Episode 19 Review: The Dirty Half Dozen

Henry A. Otero at . Updated at . Comments
Okay, now that's how you do a frakkin' movie tie-in people!
I've been waiting for a real connection between the movies and the series since last year's Captain America: The Winter Soldier shook up the TV series. Well, it's safe to say Agents of S.H.I.E.L.D. Season 2 Episode 19 was a game-changer in that regard.
This installment was easily one of my favorites of the season. I can't wait to learn more when I watch Avengers: Age of Ultron this weekend.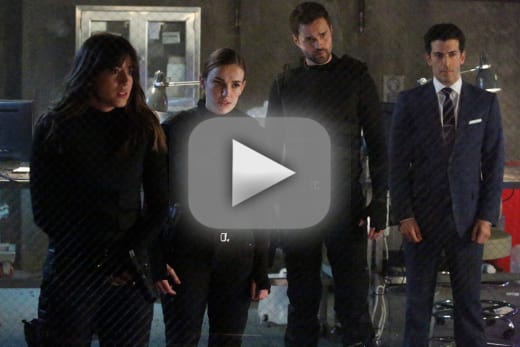 Raina's "dreams" were finally getting more interesting. I think I'm going to enjoy this new story telling device. It's a unique way of flash forwarding to the end or even another episode without the standard "24 hours earlier."

This week, the writers didn't waste any time and picked up right where we left off. I was surprised Cal wasn't a tad more furious about his banishment. Jiaying put her foot down though. Those "other options" she mentioned didn't sound good, but what exactly were they?

Gonzales and Coulson came to an understanding. Though I'm still not crazy about the whole "real" S.H.I.E.L.D. thing, this team up worked. Of course, it was Coulson's team taking all the risks.
Gonzales: Why turn yourself in now Phil?
Coulson: Strucker and List have been running experiments on enhanced people. They've set up a base in the Arctic. I have a man on the inside who fed us the location.
Gonzales: I can't trust you.
Coulson: Then trust the mission. Robert, don't let this be about you and me. The one thing we still have, both of us, is stopping HYDRA. Don't we?
It was surprising to hear Jiaying say they were not rescuing Lincoln. Sure, she knew exactly what HYDRA would do to him, but her argument made sense. Besides, it was pretty clear Skye wouldn't stand for it. She was going in no matter what.

Speaking of Lincoln, weren't those the same cells we saw in the Captain America: The Winter Soldier post-credit scene? Where Strucker and List were experimenting on Quicksilver and Scarlet Witch? Either way, the cells were certainly a call back to the movie and a very nice touch.

Though we didn't see Strucker himself, I can't complain too much as the tie-in worked better this week. Plus, we got a Maria Hill cameo so let's not get too greedy. Theta Protocol came up again, will it come into play in Avengers: Age of Ultron?
Coulson: Since when did you become a high ranking member of team Gonzales?
May: Someone had to run the base while you were gone. Having a seat allowed me to keep you safe.
Coulson: I was fine on my own.
May: Seems that's how you operate best.
Coulson: What the hell is that supposed to mean.
May: That you've been lying to me. Every since S.H.I.E.L.D. fell, all those overseas trips you were taking. They were never about recruiting new agents were they? You want to tell me what Theta Protocol is?
Coulson: No.
May: Because you don't trust me.
Coulson: Because you're not the director of S.H.I.E.L.D.
May: Neither are you.
It was great to see Raina mention her dream about Skye saving Lincoln. I liked the way her gift came into play convincing Gordon to take Skye to S.H.I.E.L.D. Yeah, all that stuff worked really well. Skye's nasty comment was uncalled for though; she can be so bratty. Raina was finally trying to help, but it's interesting that Jiaying doesn't trust her.

I loved seeing the whole team back together again. I'm hoping Ward gets back in the mix somehow, though I'm not sure exactly how that would work. Ward saying, "Can we just address the elephant on the plane" was hilarious. I honestly believed Ward when he said he regretted his betrayal. How do you feel about all this? Let me know if the comments below.

Did HYDRA destroy the bus? I mean, I realize the team escaped in the quinjet but is the bus gone for good?

How amazing was it to see Skye use her powers? She kicked some major ass this week, too. It was cool the way she brought Lincoln back to life! I'm glad he's sticking around a bit longer; we've just met the guy.
Ward: Sounds like you made it out okay.
Coulson: I'm surprised you didn't join us.
Ward: Though it would be in my best interest to find an exit that wouldn't land me in a cell afterwards. or, you know, my brain erased.
Coulson: Well, I'm glad you made it out all right.
Ward: Yeah we both know that's not true Coulson.
Coulson: You want to tell me what this call's really about?
Ward: I always knew the team wasn't going to forgive me. Some people just don't deserve forgiveness, but Kara, she does. That's why I've returned her to S.H.I.E.L.D.
Coulson: Ward, there's...
Ward: She was a good agent. A good person. Then HYDRA ambushed your safe house, took that from her; took everything. Whitehall broke her and I have tried to fix her but I'm just not the right man for it. There's not enough good left inside me. She deserves better.
Coulson: I'll see what I can do.
Ward: I know you'll do the right thing.
Were you bummed to see Bakshi go? I confess, his death surprised me a bit. Ward's exit plan didn't though; I knew it wasn't safe for him to stick around. I'm still hoping that changes, though; Brett Dalton is a huge part of the show and the writers have to reintegrate him somehow. When he's not around, the character is sorely missed. Make it happen S.H.I.E.L.D. writers!

The Fury's "spoiler alert" line was great. It went a long way in showing how out of touch Gonzales and his people are. What exactly is Theta Protocol? Is that what Coulson downloaded to a USB Drive at the HYDRA base? Is it tied to Loki's Scepter? Did Agents of S.H.I.E.L.D. seriously just jumpstart Avengers: Age of Ultron?

Raina was clearly referencing Ultron in her vision, but I'm not clear how Theta Protocol and the Scepter connect to the events of the movie. I guess we'll learn more this week once Avengers: Age of Ultron hits theaters. Yep, I've got my ticket and I'm excited to see how the aftermath affects the TV series next week. These are moments Marvel fans go crazy for. I love how the universe connects.

What did you think of "The Dirty Half Dozen"? Was this episode the type of tie-in you expect from Marvel? What did you think of the Ward team up? You're up guys, please share your thoughts with me in the comments below. Look for our Agents of S.H.I.E.L.D. round table later this week.
Don't forget, you can watch Agents of S.H.I.E.L.D. online via TV Fanatic at any time. Catch up before watching Avengers 2.
NOTE: Agents of S.H.I.E.L.D. Season 2 Episode 20 is titled "Scars" and airs on Tuesday, May 5.
How exactly do the series and the film connect? Check out Avengers: Age of Ultron this weekend!