CSI Cyber Season 1 Episode 5 Review: Crowd Sourced

Amanda Wolf at . Updated at .
Is society too addicted to technology and social media? If you ask me I would have to disagree, but CSI: Cyber would certainly say it is.
On CSI: Cyber Season 1 Episode 5 a cyber criminal is out to punish our technology addicted society by ensuring that their addiction was the cause of terrible events. 
This hour also continued to delve into our characters' pasts and told us a lot more about Avery's past, in particular.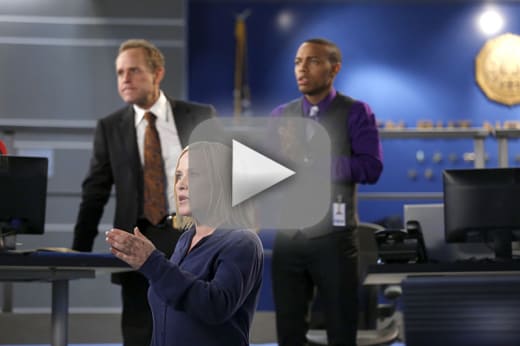 The collateral damage due to this hacker's hatred for technology was serious. In the first five minutes, a heroic movie attendant died trying to save everyone and a woman had to live with the fact that her phone set off the bomb that killed her son.
It was heartbreaking, however, I will never stop ignoring the fact that traditional CSI crime is masquerading as cyber crime.  
Your addiction to technology is going to kill you.

Cyber Terrorist
To give more weight to his threats, the hacker started using page views to countdown to the next crime, placing the responsibility and blame on the technology and social media addicted citizens. The scenario reminded me of some of the gruesome, twisted deaths in Saw. 
Avery reasoned the target clearly understood social media addicts and knew page views would continue to go up if the FBI issued an alert about the site. Sure, this was basic psychology (and not just a trait of social media addicts), but it is actually a scary thought considering the recent efforts of terrorist organizations like ISIS on social platforms like Twitter. 
Avery was right to stand up against Sifter on issuing an alert about the website and using Torbin to stop the bomb. She has some backbone and it has clearly gotten her to where she is now. 
Now, let's discuss Tobin.
Hints have been dropped about Avery's first black hat who failed to be reformed, but now we got to meet Tobin in the flesh. Tobin was worth every bit of the screen time he got. Both the flashbacks and present day scenes with him and Avery shed a lot of light on who Avery is, which is a compassionate person who believes in second chances. 
The scene where Avery had Tobin arrested was heartbreaking and felt like a mother and son scene. 
The appearance of Tobin made the relationship between Nelson and Avery a lot more endearing and I think it actually made it stronger. Nelson and Avery are both very aware that Nelson is not like Tobin, and it has created a strong bond between these two. 
The biggest problem I had with the case was that we barely saw the man responsible or learned anything about why he was so disturbed. Did we even learn his name?
After his death the team had to race against the clock to find a second bomb he planted. But why would a brilliant hacker be so mad about our technology and social media addiction? It seems like it would be something that he would support since it is part of the technology that enables him to be hacker. 
As much as the plots either go over my head or just do not make sense the CSI: Cyber team has some great chemistry. The fact that Krumitz' new nickname is 'Krummy' said it all. Although, the bro punch between Elijah and Krumitz was pretty great, too. 
What did you think of this hour? Do you wish we could have learned more about the criminal? What did you think of Tobin? Are you interested to see be involved in more story lines? What did you think of Avery's flashbacks? 
If you haven't solved the case yet, remember you can watch CSI: Cyber online via TV Fanatic!