It's Disney Night, you guys!
Dancing With the Stars Season 20 Episode 5 was plenty of fun to watch, complete with dancing animations and elaborate costumes.
Disney Night makes a great choice for a theme, because it's one that offers something for everyone to enjoy – from Mary Poppins to Pirates of the Caribbean, and, of course, Frozen.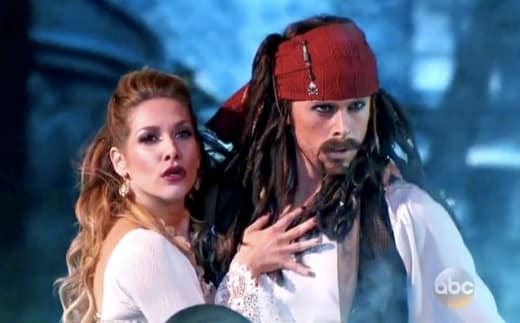 It's also the halfway point in the competition, and the pressure is getting to a lot of our competitors. Suzanne said in rehearsals she didn't think she could do it anymore, and Chris wasn't in the best of spirits, either.
One thing I'm excited about is that we're also at a point where everyone cares sincerely about what they're doing, and everyone is trying their best. Not a single celebrity is phoning it in, but that also means the eliminations become more emotional.
Before we talk about eliminations, though, we have to talk about some of these routines. The special effects and the costumes only added to what made for some pretty spectacular dances.
The highest scoring dance came from Rumer and Val, which isn't surprising at all. These guys are putting everything they have into the competition, and it shows. Rumer as Ursula and Val as an eel? Count me in. Spectacular.
Nastia and Derek's dance tied for second place, with a Frozen themed Jazz routine that pulled out all the stops. In fact, perhaps for the first time, it really seemed like they were enjoying themselves. I do have to agree was Carrie Ann's comment, though. The lip syncing was a cool touch to begin with, but it did get confusing and distracting.
My favorite dance of the night came from Riker and Allison. They tied Nastia and Derek for second place, but their routine was definitely the most fun to watch. Riker pulled off Jack Sparrow in the most amazing way, and the whole routine was not only a great way to honor the film, but the dancing itself was completely captivating. Paso Doble, by the way, is also usually one of my least favorite dance styles to watch – but not so with this routine.
As always, there was bad news at the end of the night, and another couple had to go. So who was it?
This week, Suzanne and Tony were sent home. I can't say that I'm surprised, though I am a little bummed. Still, I think it's a fair choice.
Other Thoughts:
Willow and Mark's dances are such fabulous productions each week. I absolutely love it every time they take the stage.
Even though I appreciate that the stakes are higher, it seemed to me the judges were a little bit harsh tonight, handing out 6's left and right.
I'm still feeling as though things are too rushed without the results shows, particularly now that we're getting great dances that deserve encore performances.
What did you think of "Disney Night"? Who's performance was your favorite? Share your thoughts in the comments below!
Here are this week's scores!
Rumer and Val (Samba): 39
Riker and Allison (Paso Doble): 38
Nastia and Derek (Jazz): 38
Willow and Mark (Foxtrot): 34
Suzanne and Tony (Jazz): 28 – ELIMINATED
Noah and Sharna (Foxtrot): 28
Patti and Artem (Waltz): 27
Chris and Witney (Quickstep): 27
Robert and Kym (Quickstep): 24
Ashley Bissette Sumerel was a staff writer for TV Fanatic. She retired in September 2017. Follow her on Twitter and on Google+.