Daredevil Preview: 9 Things to Know About Netflix's Kick Ass Marvel Series
Jim Halterman at .
Any film or television series with Marvel in the title comes with a slew of expectations from their diehard fans and, starting today, all eyes will be on Netflix, which joins the Marvel fray by premiering all 13 episodes of Daredevil.
Created by Drew Goddard and run by Executive Producer Steven DeKnight, the show focuses on blind Matt Murdock (Charlie Cox), a lawyer during the day who becomes the hero Daredevil at night, fighting crime with the help of his close friend and partner Foggy Nelson, along with secretary Karen Page.
However, even with the familiar sounding set-up, Daredevil in many ways is one of a kind. Our hero doesn't have super powers or a super suit or super gadgets; he has heightened senses that aid him in bringing down the bad guys.
After screening the first five episodes earlier this week, and speaking with star Elden Henson, I came up with 9 key things to know about the next must-binge drama...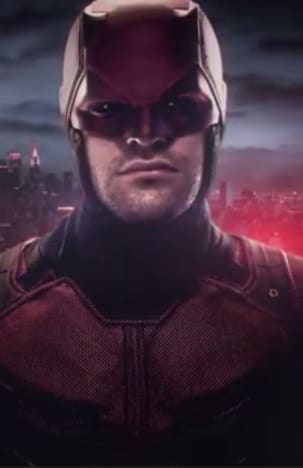 It Raises The Bar: Daredevil feels like the show we all wanted Agents Of S.H.I.E.L.D. to be when it first premiered (don't send hate mail, I know the ABC series has come a long way in its more sturdy second season).
Here, Murdock is not superhuman; he is personally vulnerable at times and can definitely be hurt, which happens often throughout the episodes. However, his determination and powerful senses makes him a hero as formidable as any in the Marvel universe.
Grounded in Reality: Unlike many of the Marvel projects, the world in Daredevil is one in which we could easily live in, as opposed to feeling like a heightened, fantastical version of our world. Taking place in a rebuilding Hells Kitchen in New York City, Henson, who admittedly isn't an expert on the Daredevil comic books, said Marvel's Jeph Loeb reassured him early on by saying there was much more to the show than the comic world:
"We're not just trying to make a comic book show," Henson said Loeb told him. "We're trying to make a crime show."
The actor further explained: "It's about the neighborhood in New York and it's not that hyper world where you have aliens from outer space and stuff. It's really cool and maybe even for people who aren't huge fans of the comic book world to can gain entry into it. I found it to be very cool."
A Little Romance: The show doesn't make love and romance a driving force in the narrative, but it is used to help keep the characters more relatable and human. Murdock clicks early on with Rosario Dawson's Claire Temple, a nurse who not only helps his wounds but also serves as a voice of reason and conscience for the crazy world and situation Murdock inhabits as Daredevil.
(And it's nice that there's no big story point in the fact that Claire knows exactly who Murdock is in his crime fighting pursuits.)
And don't count Foggy out with the ladies, either, particularly Karen, played by True Blood alum Deborah Ann Woll. "I think there's a great dynamic between all three of them and there is no doubt that Foggy is really interested in Karen," Henson said. "I don't want to give too much away but the fans of the comic will be happy with that dynamic."
The Big Bad is BAD!: Daredevil has a villain ... and he's a terrific one. Wilson Fisk, as played by Law & Order: Criminal Intent alum Vincent D'Onofrio, isn't a cartoony villain who is bad just to be bad. Like all the characters in the show, he's refreshingly layered much more than you might expect.
"There's a real humanity there and it almost makes his character scarier in a way," Henson teased. "Like I said before, I didn't know much about the comic book world but I think I have an okay understanding of storytelling and it was apparent to me that all the characters on the show would have somewhere to go."
Be warned, though: Just because Fisk isn't the familiar, moustache-twirling villain at doesn't mean - and I cannot stress this enough – he's not a villain. Just cross him or (gasp!) say his name out loud and you'll see just how bad this baddie can be.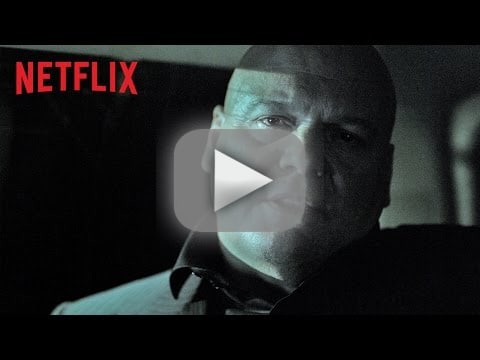 Kick Ass Action: With all this talk of vulnerability and feelings, you don't have to worry that Daredevil is soft to the center. In fact, the amazing fight sequences are some of the best I've seen in film or television, with complicated choreography and a brutality that you don't always see in Marvel projects.
Bones break, blood spews and, well, let's just say there are plenty of cringe-worthy moments that will either have you covering your eyes for a moment or, if you're like me, giggle nervously at the awesomeness of it all. The fact that Daredevil is blind only makes the fight scenes more spectacular to watch.
Foggy as Superhero? Whereas a show like Arrow is currently overpopulating itself with more and more superheroes, don't expect to see Foggy suddenly fly through the air to fight crime in a snazzy, snug suit.
"I don't want to spoil things," said a laughing Henson, "But what I will say is that I am too fat to fit into any superhero suits!"
Brotherhood: The show establishes Murdock and Foggy as longtime friends who also share their own law practice. Their brotherly bond is something Henson could relate to in a big way when he first took on the role.
"That was one of the characteristics of Foggy that I latched onto was the real love for his friends and not just his friends but the people around him, his neighborhood," he said. "I identified with that because I have the same five friends that I've had ever since I can remember and we all still get together. I consider my friends my brothers and my brothers my best friends so that was really easy to fall into."
Charlie Cox: If you don't know the British actor yet (you may remember him from seasons 2 and 3 of Boardwalk Empire), you will very soon. Cox brings a subtle elegance and appeal to Murdock while also portraying his deep felt beliefs in helping people, bringing down the baddies and, thanks to some well-placed flashbacks early in the series, we get to see his origins of losing his sight as a boy and the importance of his father in his life.
Henson shared some of his thoughts of working closely with the Brit on the new series: "I lucked out big time getting the opportunity to work with Charlie because he's just an incredibly lovely guy and really open and really smart and he really cared about doing things right."
Binge-Worthiness?: Duh! I don't know about you but I just can't binge an entire season of shows in one sitting. But that may be changing with Daredevil. Instead of taking a break after 2-3 episodes, I watched the first five episodes provided as preview and was left hungry for more. So, trust me, cancel those weekend plans and get comfy on the couch. Daredevil is a thrill ride you won't want to end.
Daredevil Season 1 is streaming all 13 episodes now on Netflix. 
Jim Halterman is the West Coast Editor of TV Fanatic and the owner of JimHalterman.com. Follow him on Twitter.