Mad Men Season 7 Episode 9 Review: New Business

Carissa Pavlica at . Updated at .
I could really use Betty's impending masters in psychology right now.
Getting to the end of Mad Men Season 7 isn't going to be an easy task when it comes to reviews, but the good news, you guys don't talk back too much, so I can feel mildly brilliant as I analyze Don and friends.
To that end, Mad Men Season 7 Episode 9 saw Don's marriage to Megan finally coming to a partial close while he looked wistfully back at his first life and thew money at his second to try to make the pain go away. Yep, everybody is still grasping at happiness while finding a whole boatload of sadness in it's place.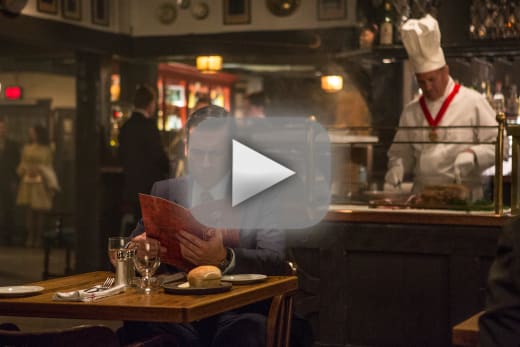 But first up, has success spoiled Harry Crane? What a bastard. The guy essentially got lucky with TV being such a big thing and now he thinks he's all that and a bag of chips. Things were going relatively well for Don in his divorce with Megan until Harry hit on her. If he hadn't done that and proven what a bunch of punks advertising execs can be when they get a client alone, she wouldn't have turned on Don when she reached the attorney's office.
What she saw in Harry only reminded her of what Don became when he was alone and she left for California. Of course, she also likely recalled a bit of who she had become with Don and nobody wants to remember that as their marriage is ending. Ugliness begets ugliness and a million bucks and an apartment full of very fine furniture later and Don may be a free man.
It certainly was a strange turn of events. Harry even had the nerve to go to Don and forewarn him that Megan would be saying things about him because she was crazy. I think that was on Don's mind as he wrote that check.
In a way, he did that to her. That and the fact the money has brought absolutely no happiness to him whatsoever and his belief that he just doesn't deserve it. 
I loved the opening scene of "New Business," when Don was with the kids at Betty's place, making them milkshakes. He was comfortable with his old family. Although he was a little surprised and acted slightly snarky at the thought of Betty becoming a psychologist, with all of the internalizing he's done lately, he's also had to have taken some responsibility for the woman she became after marrying him.
The look on his face as he was taking his leave and he soaked in the picture of what should have been his life, but was instead of another man married to his former ideal woman with his two little boys told me he's still searching for a replacement for that life. It's the one that got away. Maybe not Betty, per se, but the whole shebang. 
That's why he married a secretary, had an affair with Sylvia and is now smitten with Diana; he's always searching for a normal woman to make his own. Somehow, his version of normal is never normal at all. He wants to atone for all of his mistakes to by making it up to others, but fails in his attempts.
Who knew there could be someone even more broken than Don milling around New York City and that Don would find her? Diana is a mess, and he seems to see himself in her and perhaps a chance to atone, once again.
Discovering she had two daughters, one who died and one she left back in Racine with her ex to raise probably only made her more appealing to him, and he understands both not wanting to feel and not wanting to lose the focus of one single emotion.
The parallel swings back to Don, and his wife living in another house, raising his children. Diana lives in a stark room, not wanting to accumulate a new life she doesn't think she deserves. At the end of the hour, Don's living in an apartment with nothing; is that what he deserves? I'd like to think he's come around to deserving more than nothing, but he continues to punish himself just the same.
Matthew Weiner said that every episode would feel, in some way, like a finale. My assumption would be we saw Megan for the last time and explored Harry ad Stan for the final time with any depth. If that's the case, did Stan get a good send off? I'm not so sure. 
Good riddance to Harry, unless they swing back around and can his ass for which I'd love to see him again. But Stan and Peggy have always had a special friendship and what we witnessed here was unsettling. It didn't feel like an end. They felt unfinished. I don't know what more can be done there, but I'm grasping. Would you like to see more between Stan and Peggy before he says his goodbyes?
The most surprising thing of the night, in my opinion, was when Megan actually stood up for her mother leaving her father. At first she was shocked to learn Marie was leaving her father (presumably for Roger), but after thinking about it, at least she was doing something about her miserable situation.
Considering how well she knows Roger and his similarities to Don, that's kind of a big statement. Whether she was on a high from the million bucks sitting in her pocket or just realized her life wasn't all that bad after all, at least she's willing to let others have a chance at happiness even if it means an end to their own marriage.
What did you think of the latest installment? Are you wondering where it's all going to end? If you have great insights, please share them, because I fear I may be missing something good and I'd love to be able to chat about it. The mention of the Manson murders should mean Megan isn't being killed by him. Huzzah! 
Until next time, you can watch Mad Men online to relive all the excitement.
Carissa Pavlica is the managing editor and a staff writer and critic for TV Fanatic. She's a member of the Critic's Choice Association, enjoys mentoring writers, conversing with cats, and passionately discussing the nuances of television and film with anyone who will listen. Follow her on Twitter and email her here at TV Fanatic.