Cruella de Vil has a past that no one expects on Once Upon a Time Season 4 Episode 19 and it may turn out to be Emma's undoing.
As a girl, Cruella's mother held her captive in the attic, using trained dogs to keep her from escaping. As a young woman, the author comes along and helps her escape, giving her the ability to control all animals. Little does he know what she'll do with it.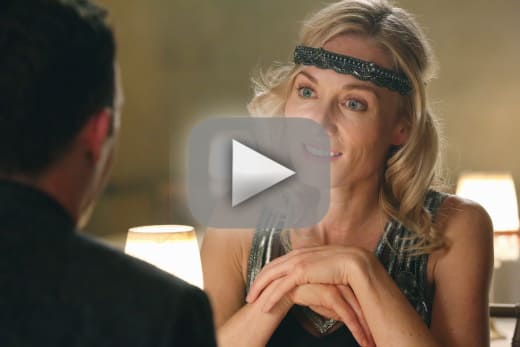 Cruella claims her mother murdered her father and her two-stepfathers but the truth turns out to be something quite different. 
Back in Storybrooke, Cruella abducts Henry. She wants Regina and Emma to kill the author or else she'll kill their son. As Regina, Hook, and Emma search the woods for Henry, David and Mary Margaret find the author who shares some surprising news about Cruella but back in the woods, Emma hunts down Cruella who is holding a gun to Henry's head. Cruella scoffs at Emma because heroes never kill...but she's shocked by what Emma does next. 
Don't miss a minute of the magic. You can watch Once Upon a Time online now, here at TV Fanatic. 
C. Orlando is a TV Fanatic Staff Writer. Follow her on Twitter.